UCAN Expands Product Assortment With New Strawberry Banana Edge
October 14, 2021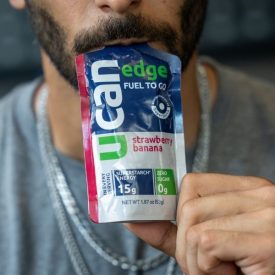 Convenient, portable pouch for long-lasting energy
(Woodbridge, CT) The UCAN Company is expanding on its extraordinary innovation in sports fueling with the launch of new Strawberry Banana UCAN Edge. The new formula features a delicious fruit flavor that goes down smooth to drive optimal performance.
Edge is a convenient, portable pouch that puts the power of SuperStarch energy in the palm of your hand. It provides athletes and active individuals with a slow time-release of carbohydrates for energy while maintaining stable blood sugar levels for better performance and health. Edge does not contain any sugar, a key differentiator from traditional on-the-go energy products like gels and chews.
"Edge is one of the most impressive innovations in sports nutrition that I've seen in a long time," says Meb Keflezighi, 4x U.S. Olympian and distance running legend. "I keep an Edge in my pocket for easy fueling on the go during my run or ride. It sits really well in my stomach."
While many athletes fuel with sugar-based energy products such as sports drinks and gels, the emphasis on quick energy requires continuous supplementation to rescue the body from crashing. The spike and crash in energy and frequent re-fueling with sugar can leave athletes prone to bonking and stomach issues.
"Athletes have been seeking better alternatives to sugar-laden products for managing their energy during training and competition," says Shoba Murali, CEO & Founder of The UCAN Company. "With Edge, we have an easy way to stay fueled on-the-go without having to compromise your health."
Athletes who use UCAN products benefit from the steady-release of energy from SuperStarch, the patented, complex carbohydrate that's unique to UCAN and delivers long-lasting energy without a spike & crash and with less frequent re-fueling compared to sugar.
Edge is available in two flavors – new Strawberry Banana and the original Orange.
To learn more and to order Edge, visit https://ucan.co/product-category/edge-energy/
About UCAN:  
Based in the US, UCAN is a company obsessed with the science of health and performance. UCAN enables athletes to gain confidence in their inherent abilities to surpass their performance goals by unlocking the body's full potential through smarter nutrition. UCAN products utilize SuperStarch®, a patented, slow-release complex carbohydrate that delivers long-lasting energy without triggering an insulin response. Originally created for a child with a rare metabolic disorder, UCAN Energy Pouches, Powders, Edge Fuel To Go, Energy Mix and Energy Bars are trusted by over 80 colleges, 40 pro teams, Olympic marathoners, elite triathletes, cyclists, group fitness coaches, thought leaders in health and performance, boxers and recreational athletes for foundational nutrition to be their very best.  Learn more at ucan.co, and get the latest news and product updates by following @GenUCAN on Facebook, Instagram and Twitter. UCAN nutrition products are currently available at over 350+ specialty run, bike and tri stores around the country, LifeTime gyms, and can be purchased online at ucan.co or on Amazon.