Uber Eats to treat Boulderthon® runners to top-notch experience at new Downtown Start Village
June 30, 2023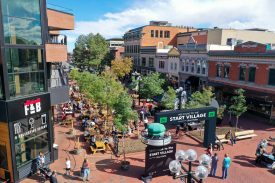 Leading on-demand delivery app will be Presenting Sponsor of the Start Village at Colorado's fastest-growing running event
BOULDER, Colo./ENDURANCE SPORTSWIRE/ – Boulderthon®, the fastest-growing running series in Colorado, has announced a brand new partnership with Uber Eats for the 2023 event. The on-demand delivery app and website that helps bring millions of people around the world the things they want at the tap of a button will be the presenting sponsor of the Start Village where thousands of runners will kick off their race day experience on Oct. 8. The signature Boulder Marathon series will start and finish at on Pearl Street Mall in the heart of downtown Boulder.
Throughout race week, Uber Eats will be partnering with local restaurants to offer exclusive discounts on Uber Eats for marathon participants. A promo code is already live and can be found on Boulderthon's official Instagram page and subscriber emails. By applying the promo code at checkout, runners will unlock even more discounts offered by participating restaurants.
"Uber Eats is dedicated to supporting local businesses and fostering connections within the community. This partnership represents a wonderful opportunity for both runners and local restaurants to come together and celebrate the first-of-its-kind Start Village at Boulderthon," said Jane Bredeson, Colorado Sr. Account Manager at Uber Eats. "We're excited to offer marathon participants a wide selection of delicious food options conveniently available to order for delivery or pickup with the Uber Eats app."
"There's no doubt that our participants will have an epic start to their race day thanks to Uber Eats' support of our event. We're so thrilled to bring the start line to Pearl Street Mall for the first time and this partnership allows us to do it in style," said Phil Dumontet, founder and president of Boulderthon®. "This collaboration is just one of the ways we continue to innovate and to delight our runners with an elevated event experience."
Boulderthon will take place on Sunday, Oct. 8, 2023. The top-rated, fast-growing race series became the second-largest marathon series in Colorado in its first year of existence, and the largest fall running event in the state. In its second annual edition, Boulderthon drew runners from all 50 states as well as 15 countries, as the signature marathon showcased the world-class city of Boulder set at the foothills of the spectacular Flatirons. After nearly tripling in size last year and selling out, Boulderthon has instituted a new 8,000 runner cap this year and is expected to sell out again. In 2023, Active.com named Boulderthon one of the Top 5 Best Half Marathons in the United States.
For more information on Boulderthon, visit www.boulderthon.org.
Download the Uber Eats app today iOS | Android
About Boulderthon®
Boulderthon® was created in 2021 by avid New York Road Runner, Phil Dumontet, with the goal of bringing a world-class marathon to one of the great running hubs of the country. It is a Boston Marathon Qualifying (BQ), USATF Sanctioned Event, measured by a Level A USATF Course Measurer, representing the highest level of certification for a marathon race series. The race offers a full marathon, half marathon, 10K, 5K, and children's races. For more information, visit www.boulderthon.org.
About Uber Eats
Uber Eats is an on-demand delivery app and website that helps bring millions of people around the world the things they want, at the tap of a button. We partner with over 890,000 restaurants and merchants in more than 11,000 cities across six continents. From specialty local favorites to national brand names, groceries to household essentials and more, Uber Eats has what you want when you want it.
###