U.S. Olympian Aliphine Tuliamuk Returns to Pittsburgh for the UPMC Health Plan Pittsburgh Half Marathon, Her First Race Since Tokyo Olympics
April 5, 2022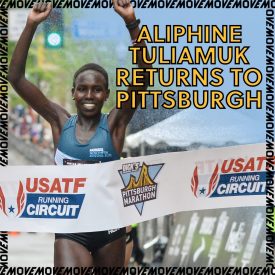 Tuliamuk, who holds the event course record of 1:10:04, will compete against other top American and international athletes for $58,000 prize purse
PITTSBURGH, PA (April 5, 2022)/ENDURANCE SPORTSWIRE/ – U.S. Olympian Aliphine Tuliamuk will return to Pittsburgh to run her first race since the Tokyo Olympics at this year's UPMC Health Plan Pittsburgh Half Marathon, scheduled for Sunday, May 1.
Pittsburgh has consistently been a stepping stone on Tuliamuk's running career journey. In 2015, she ran her first marathon at the DICK'S Sporting Goods Pittsburgh Marathon, finishing in second in 2 hours, 34 minutes and 44 seconds. She returned in 2018 to win the USA Half Marathon Championships while also setting the Pittsburgh Half Marathon event record of 1:10:04.
"Pittsburgh has become a special city for me," Tuliamuk said. "It's where I learned that the marathon was painful but worth the struggle. Winning the 2018 USATF Half Marathon Championship gave me much needed confidence as I built toward the 2020 U.S. Olympic Trials.  This year I am hoping for the same competitive atmosphere that Pittsburgh always brings. It will be my first race in a while, and I wanted to come to a place where I feel comfortable."
Preparations for the race are going well for Tuliamuk, who is currently training in Flagstaff, Ariz. Tuliamuk says her HOKA Northern Arizona Elite teammates hold her accountable and push her every day. A lot has changed since her last Pittsburgh appearance in 2018. In February 2020, she won the U.S. Olympic Marathon Team Trials, and then watched the world shut in response to the pandemic. When the Tokyo Olympics were postponed in 2020, she decided to use the time off from competing to have a child. After having her daughter Zoe in January 2021, she returned to training and competed in the 2021 Tokyo Olympics seven months later.
"The pandemic has reinforced to me the importance of knowing what makes you happy and living life toward that pursuit," Tuliamuk said.  
She hopes Pittsburgh will once again bring her success and allow her to demonstrate her talents as an accomplished endurance athlete.
"This is a city that values hard work and champions," Tuliamuk said. "It is nice to feel admired and respected by anyone associated with Pittsburgh."
Tuliamuk will join other top American and international runners competing for the $58,000 prize purse in the 2022 UPMC Health Pittsburgh Half Marathon. For the first time, the event has been awarded a World Athletics Road Race Label. Only five other U.S. races carry a label from World Athletics. The full field of elite athletes for both the DICK'S Sporting Goods Pittsburgh Marathon and UPMC Health Plan Pittsburgh Half Marathon will be announced later in April. For more information about the 2022 DICK'S Sporting Goods Pittsburgh Marathon Weekend of Events, visit www.thePittsburghMarathon.com.
#      #       #
About the DICK'S Sporting Goods Pittsburgh Marathon Weekend of Events
The Pittsburgh Marathon was held annually from 1985-2003. After a five-year hiatus, the DICK'S Sporting Goods Pittsburgh Marathon was relaunched in 2009 and debuted with a sold-out field of 10,000 participants. It has grown each year since, evolving from a single race day into a weekend of events for the whole family that annually attracts nearly 40,000 runners.
Read more at: ThePittsburghMarathon.com
FACEBOOK: DSGPM    TWITTER: @PghMarathon    INSTAGRAM: pghmarathon
About P3R
P3R is the engine behind Pittsburgh's greatest races. We strive to inspire any and all to move with us. Best known for organizing the acclaimed annual DICK'S Sporting Goods Pittsburgh Marathon, P3R runs a variety of other high-quality races, events, and health and fitness programs throughout the Pittsburgh region. While many of our races attract some of the nation's highest-profile professional athletes, we offer activities for all ages and ability levels. Anyone and everyone is invited to #RUNwithP3R! Read more at: P3R.org
FACEBOOK: RUNwithP3R        INSTAGRAM: RUNwithP3R     TWITTER: @RUNwithP3R