U.S. Elite Triathlete Matt McElroy Wins Silver at Pan American Games Santiago 2023
November 3, 2023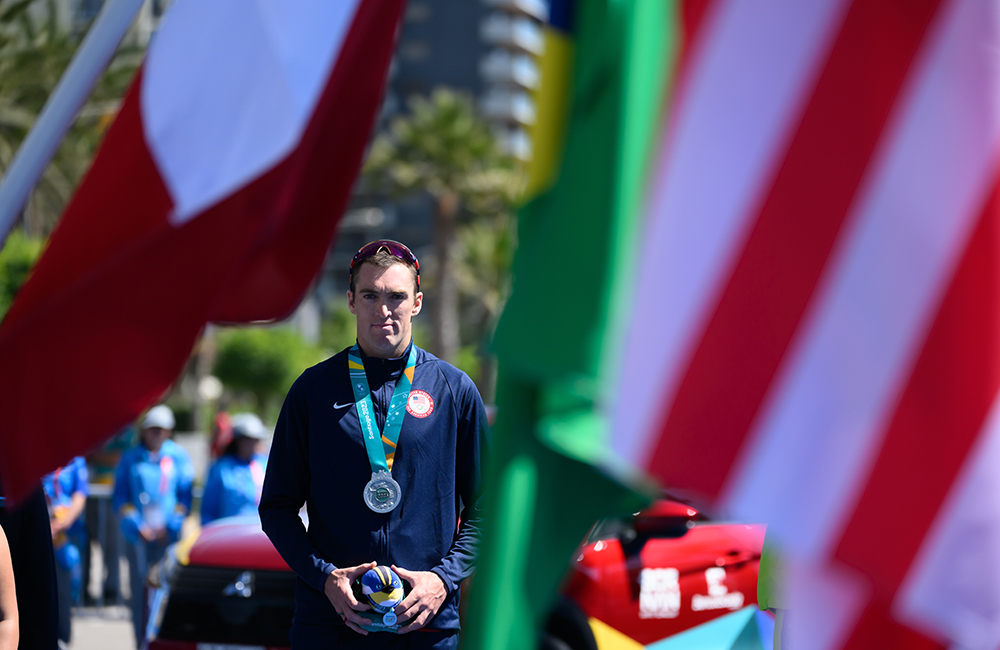 VIÑA DEL MAR, Chile /ENDURANCE SPORTSWIRE/ – U.S. Elite Triathlon National Team member Matt McElroy (Huntington Beach, Calif.) led the U.S. contingent with a silver-medal performance at the Pan American Games Santiago 2023 on Thursday, Nov. 2 at El Sol Beach in Viña del Mar.
McElroy's silver is the 13th all-time medal for U.S. triathletes at the Pan American Games since triathlon made its Pan American Games debut in 1995. The medal is the first for a U.S. triathlete since Kevin McDowell (Boulder, Colo.) won silver at the 2015 Pan American Games in Toronto.
Held every four years in the year before the Olympic Games, the Pan American Games are the third largest international multi-sport Games after the Olympic Games and the Asian Games. The history of the Pan American Games dates to 1951, when the Games were first hosted by Buenos Aires, Argentina. The U.S. has hosted the event twice, in Indianapolis in 1987 and Chicago in 1959.
The course at El Sol Beach in Viña del Mar featured a 1,500-meter ocean swim, a 37.8-kilometer bike ride through the city streets of Viña del Mar and a fast, flat 10K run.
The men's race was fast and tactical from the gun. The wetsuit-legal swim featured the cold (60 degrees) and choppy waters of the Pacific Ocean, with Chile's home country star Diego Moya emerging first out of the water. U.S. elite triathletes Chase McQueen (Columbus, Ind.) and Seth Rider (Germantown, Tenn.) finished the swim less than 10 seconds behind.
That trio started together on the bike, forming the lead bike pack that by the end of the first of six laps was caught by the chase group led by McElroy and Brazil's Diego Moya. The lead group stayed together most of the ride, with riders taking turn at the front. McQueen, however, decided to break away solo on the final lap, managing to open a gap of almost 40 seconds by the time he hit the transition area for the run.
McQueen was caught, however, by the end of the first lap of the run by a group that included McElroy, Moya, Hidalgo and Mexico's Crisanto Grajales. Rider, Canada's Martin Sobey, Tyler Smith of Bermuda and Chile's Gaspar Riveros joined the lead group and for more than half of the 10k run, the group ran run shoulder to shoulder, with the local crowds going wild every time they passed through transition.
With one lap to go, McElroy, Hidalgo and Grajales broke away from the group as the trio tactfully battled for the final 2.5k. With the blue carpet in sight and with less than 300 meters to go, Hidalgo and McElroy sprinted ahead, with Hidalgo just edging McElroy to the line for the win.
McElroy finished with a time of 1 hour, 46 minutes, 8 seconds, just 1 second behind Hidalgo. Grajales earned the bronze.
"I think this was one of the most tactical races I've ever done. The sprint finish was also pretty epic, and I have to give it to the crowd, it was fantastic. I can easily say this was one of the top three triathlons I've ever done, and I am so proud to have been able to finish on the podium," McElroy said. "The Pan American Games are getting deeper and deeper, finishing second here to Hidalgo, especially when I am not 100% recovered of my back injury, means a lot to me. This shows that I can be there, and I will come to next season probably in the best form of my life."
Rider had a sprint finish of his own, battling Sobey to the line as he finished fifth in a time of 1:46:32. McQueen placed 14th in 1:48:40.
In the elite women's race, two U.S. elite women competed, Erika Ackerlund (Helena, Mont.) and Gina Sereno (Madison, Wis.).
Ackerlund, a member of the U.S. Elite Triathlon National Team, led the U.S. women by placing seventh in a time of 1:58:58. She led the chase group on the bike for much of the race before clocking a 36:12 10k to secure seventh.
"For both Gina and I we got late call-ups to this race. All year, we both wanted to come to Pan Ams. It looked like we weren't quite going to make the team, but then we got the call up just a couple weeks ago. We were trying to turn things up last minute getting ready to come down here," Ackerlund said. "Hopefully we can put our podium uniforms to use on Saturday at the mixed relay."
Sereno placed 12th, nearly running her way to the top 10 with a 35:39 10k.
Mexico's Lizeth Rueda Santos won gold, with a time of 1:57:07, her teammate Rosa Maria Tapia Vidal joining her on the podium with the bronze and Columbia's Maria Carolina Velasquez Soto earning the silver.
The triathlon racing action in Viña del Mar continues Saturday, Nov. 4 with the mixed relay. The athletes who will comprise the U.S. Mixed Relay team will be determined at least two hours prior to race start on Saturday.
In the mixed relay, teams of two women and two men compete, with each relay member completing a super-sprint triathlon before tagging their next teammate. The U.S. won silver in the mixed relay at the Olympic Games Tokyo 2020, which marked the Olympic debut for the mixed relay.
Pan American Games Santiago 2023
Viña del Mar, Chile
1,500m swim, 37.8k bike, 10k run
Elite Men
1. Miguel Hidalgo (BRA), 1:46:08
2. Matt McElroy (Huntington Beach, Calif.), 1:46:09
3. Crisanto Grajales (MEX), 1:46:11
U.S. Finishers
5. Seth Rider (Germantown, Tenn.), 1:46:32
14. Chase McQueen (Columbus, Ind.), 1:48:40
Women
1. Lizeth Rueda Santos (MEX), 1:57:07
2. Maria Carolina Velasquez Soto (COL), 1:57:28
3. Rosa Maria Tapia Vidal (MEX), 1:57:52
U.S. Finishers
7. Erika Ackerlund (Helena, Mont.), 1:58:58
12. Gina Sereno (Madison, Wis.), 2:00:25
U.S. Medals at the Pan American Games
Triathlon has been a sport of the Pan American Games since 1995
1995: Karen Smyers (gold)
1999: Hunter Kemper (silver)
2003: Hunter Kemper (gold); Sheila Taormina (silver); Becky Gibbs (bronze)
2007: Andy Potts (gold); Julie Ertel (gold); Sarah Haskins (silver); Lauren Groves (bronze)
2011: Sarah Haskins (gold); Manuel Huerta (silver)
2015: Kevin McDowell (silver)
2023: Matt McElroy (silver)
About USA Triathlon
USA Triathlon is proud to serve as the National Governing Body for triathlon, as well as duathlon, aquathlon, aquabike, winter triathlon, off-road triathlon, paratriathlon, and indoor and virtual multisport events in the United States. Founded in 1982, USA Triathlon sanctions more than 4,000 races and connects with more than 400,000 members each year, making it the largest multisport organization in the world. In addition to its work at the grassroots level with athletes, coaches, and race directors — as well as the USA Triathlon Foundation — USA Triathlon provides leadership and support to elite athletes competing at international events, including World Triathlon Championships, Pan American Games and the Olympic and Paralympic Games. USA Triathlon is a proud member of World Triathlon and the United States Olympic & Paralympic Committee (USOPC). For more information about USA Triathlon, visit www.usatriathlon.org.
– usatriathlon.org –
CONTACT: STEPHEN MEYERS (stephen.meyers@usatriathlon.org, 719-884-5616)