Two GFNY Europe races this past Sunday
August 30, 2023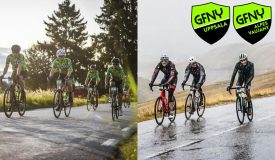 Inaugural edition of GFNY Sweden Uppsala and 4th edition of GFNY France Alpes Vaujany
New York City, August 30, 2023 /ENDURANCE SPORTSWIRE/ – For the inaugural edition of GFNY Sweden Uppsala racers tackled 133.8km with 1592m of climbing along the rolling hills of the wild Uppsala countryside.
Under perfect late summer conditions, 14 riders formed the lead group after the first unpaved section, including Nikolaj Hebsgaard (Team Velomore Denmark) and locals Mattias Wahlbeck and Joel Boden.
In the second lap and after a series of attacks in the third unpaved segment, five riders managed to break away from the lead group and quickly extended the lead, working well together. With only 1 km left to the finish, attacks started. In a three man sprint to the finish line, Wahlbeck put in a surprising attack but Hebsgaard took the win with a bike throw and crossed the finish line in 3:27:07, ahead of Boden and Wahlbeck.
In the female race, Sara Hedberg won in 3:35:48, 6 minutes ahead of Cecilia Broms-Thell and Jennie Swahn who completed the all Swedish podium.
Meanwhile in France, the 4th GFNY Alpes Vaujany offered riders a 119.6km long race course with an elevation gain of 4023m, including the legendary Col de la Croix de Fer and Col du Glandon on the menu.
After weeks of sunshine and heat, race day presented itself cold and wet: ideal conditions for tough riders who are used to this kind of climate. Climbing towards the over 2000m high Col de la Croix de Fer, five riders formed the lead group: triple GFNY La Vaujany – Alpe d'Huez champ Tim Alleman (Belgium) and French riders Sebastien Pillon, Leo Belchi, Aymeric Bardoulat and Rodolphe Lourd.
During the ascent of Col du Glandon with its 14% ramps, Alleman and Pillon put in a series of attacks that the others could not match. After a very fast descent, Alleman managed to break away on the switchbacks up to the finish at the mountain resort of Vaujany and took his fourth GFNY victory, crossing the finish line with a time of 4:35:51. Pillon followed in 4:37:11 and Belchi in 4:38:06).
In the female race, local Anne Salber took the win in 6:05:23, 5 minutes ahead of Clemence Briche and Celine Bourbousson who completed the all french podium in a time of 6:33:24.
Next up on the GFNY calendar is the third edition of GFNY Peru which will take place Sunday, September 3, 2023.
About GFNY Global Endurance Sports Series
GFNY Global Endurance Sports Series is a sports event company with three decades of experience in racing, planning and organizing events. The global endurance sports brand hosts multiple events throughout the year around the world on five continents.
Working with partners around the world to deliver a first-class experience, GFNY Global Endurance Sports Series puts its athletes first.
Cycling
30-plus events held around the world. View the latest calendar here
Riders get to BE A PRO FOR A DAY ® by competing against others, themselves and the clock in a personal endurance challenge.
Top 10% (20% at regional championships) of finishers in each age group qualify for the Elite Qualifier Corral at every GFNY World event.
GFNY World Championship NYC
The 12th annual GFNY World Championship New York will be held on May 19, 2024. The race features the world's most international peloton with riders from over 90 countries. Athletes take on a challenging route to compete against each other, the clock and themselves in a personal endurance challenge.
The official GFNY website is: www.gfny.com.
Further Material for Media Use
Official GFNY Uppsala video: here
Official GFNY Alpes Vaujany video: here
GFNY Press Images: here
GFNY Results: here
GFNY World calendar graphic: here
Previous GFNY press releases: here
Media Contact
Gran Fondo New York Inc.
Uli Fluhme, uli@gfny.com
Caroline Lindsay, caroline@gfny.com