Tucson Bicycle Classic THIS WEEKEND Brings Pro Teams, Novices Together for 3-Day Stage Race
March 3, 2022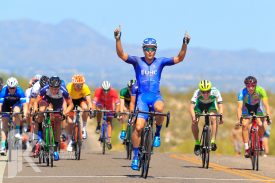 Tucson Bicycle Classic is slated to host a number of pro cycling teams, notably DNA Racing Pro Diana Penuela, who recently won the Colombian National Road Title
March 3, 2022, Tucson, AZ /ENDURANCE SPORTSWIRE/ – The Tucson Bicycle Classic is excited to bring pro and novice cyclists together this weekend (March 4-6) for a challenging 3-day stage race! This race is in its 34th year, and has a reputation within the cycling community for being challenging, well-run and well-attended.
Gord Fraser is a former Pro Cyclist, and current Head Sports Director for Israel Cycling Academy. He won the Tucson Bicycle Classic pro field in 1999 and 2002 and is a longtime friend of the race. He stated:
"There is an unfortunate shortage of stage races in the United States. Tucson Bicycle Classic is one of very few and a favorite for pro cycling teams. This is a REAL race. El Tour De Tucson in Tucson gets attention, because it's a massive event, but this is a pro level race and it means a lot to licensed racers and for us in the pro ranks, and it's a wonderful opportunity to recruit young riders."  – Gord Fraser
Tucson Bicycle Classic is slated to host a number of pro cycling teams, notably DNA Racing Pro Diana Penuela, who recently won the Colombian National Road Title. Project Echelon (UCI men's team) is also slated to bring several of their team in what is destined to be an incredibly challenging weekend of racing, with an exciting, spectator-friendly finish on Sunday.
"The courses are all challenging and allow for European-style tactics. But beyond that, it is an incredible opportunity for young cyclists and one of the most important early events of the year for so many. It's hard, really cool, and local."  – Gord Fraser
The Tucson Bicycle Classic is a 3-day stage race scheduled to take place March 4-6, 2022. TBC is USA Cycling sanctioned, and offers equal cash purses for male and female athletes, as well as equal distances – a rarity in the sport.
Proceeds from this event will benefit El Grupo Youth Cycling, a nonprofit youth cycling organization in Tucson that empowers youth and encourages a lifelong love of riding.
"Tucson has one of the best cycling communities in the country and is a training destination for elite cyclists from all over the world. This community deserves a race that reflects the strength of local riders who are able to train hard 365 days a year in sunny, beautiful Tucson!" – Marco Colbert, Race Director
PRESS CONTACT:
Bekah Collins
520-481-1184
bekah@goodnewscommunications.com
###