Tucson Bicycle Classic Delighted to Announce Title Sponsor, The Meteor
January 6, 2022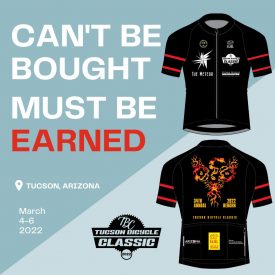 Tucson Bicycle Classic returns to Tucson with new title sponsor; slated to bring elite cyclists from all over the country.
January 6, 2022, Tucson, AZ /ENDURANCE SPORTSWIRE/ – The Tucson Bicycle Classic is delighted to announce The Meteor as Title Sponsor for the Tucson Bicycle Classic p/b The Meteor. In addition to the sponsorship, The Meteor will be involved in social media prize giveaways through the Tucson Bicycle Classic Facebook page.
"I believe in creating a global cycling community that is inclusive and focuses on the joy of riding. As a sponsor I look for events that are welcoming, in communities that share that vision. Tucson's cycling community embodies that spirit and Tucson Bicycle Classic is an event where amateurs, pros, and spectators come together for the love of the ride." – Doug Zell, The Meteor  
The Meteor has locations in both Austin, TX and Bentonville, AR. The Meteor was founded by business partners Doug Zell, the co-founder of Intelligentsia Coffee, and Chris St. Peter, a former attorney. Both are avid cyclists and close friends, largely through their shared love of the sport. Their vision began with a desire to create a beautiful environment that combines all the things they love under one roof: great coffee, wonderful wine, delicious food, and, of course, bicycles. Thus The Meteor was born: Espresso | Champagne | Chain Lube. Through The Meteor they hope to offer a unique, all-encompassing experience that strives to be better as each day passes.
The Tucson Bicycle Classic is a 3-day stage race scheduled to take place March 4-6, 2022. TBC is USAC sanctioned, and offers equal cash purses for male and female athletes.
Proceeds from this event will benefit El Grupo Youth Cycling, a nonprofit youth cycling organization in Tucson that empowers youth and encourages a lifelong love of riding.
"Tucson has one of the best cycling communities in the country and is a training destination for elite cyclists from all over the world. This community deserves a race that reflects the strength of local riders who are able to train hard 365 days a year in sunny, beautiful Tucson!" – Marco Colbert, Race Director 
PRESS CONTACT:
Bekah Collins
520-481-1184
bekah@goodnewscommunications.com
Those interested in Tucson Bicycle Classic are encouraged to like and follow their Facebook page for the most current information. Link will be provided below this line.
 LINK——–https://www.facebook.com/tucsonbicycleclassic
 The Meteor website and social links:
LINKS——– https://www.facebook.com/themeteorbentonville
https://www.instagram.com/themeteorcafe/
https://espressochampagnechainlube.com/
###