Tucson Bicycle Classic Delighted to Announce Return of Title Sponsor, The Meteor
November 16, 2022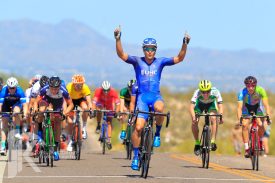 2023 stage race to return to Tucson March 3-5, 2023
November 16, 2022, Tucson, AZ /ENDURANCE SPORTSWIRE/ – The Tucson Bicycle Classic is pleased to announce the return of title sponsor, The Meteor.
The Meteor was the title sponsor of Tucson Bicycle Classic in 2022, helping to resurrect the 34 year old race after a two-year hiatus, brought on by the pandemic and a change in leadership. The 2022 race brought 510 riders from 9 countries and 34 states together for 3 days of incredible racing.
"We were proud to be a part of resurrecting a race that means so much to the local community, and are honored to be able to do so again for the 2023 series." – Doug Zell, Founder and Owner, The Meteor
The Meteor currently has locations in Austin, TX and Bentonville, AR, with a third spot opening in Fayetteville, AR in the spring of 2023 and a Tucson location slated for late 2023 or early 2024. Like the prior locations, the Tucson location will be an unexpected mash-up of an ingredient driven all day cafe, organic/biodynamic wine shop and boutique bike shop all under one roof. In short, it will have everything a cyclist loves under one roof. Founder Doug Zell is an avid cyclist and advocate for local racing.
"When we chose to open a location in Tucson, it was with great intention and a lot of consideration. We've purchased some wonderful old buildings and are all in to transforming them into something truly distinctive, special and reflective of what we love about Tucson. Tucson is artistic and bustling with creativity and an inclusive cycling culture. If you look at the other communities we're in – Austin, Bentonville and Fayetteville – they share this culture of creativity alongside a supportive, and inclusive cycling community. Our sponsorship of the Tucson Bicycle Classic is a way to reach out to the local bike scene and introduce ourselves as a partner and advocate." – Doug Zell, Founder and Owner, The Meteor
The 2023 series will again feature 3 days of racing, and is scheduled for March 3-5.
"The Tucson Bicycle Classic is a premiere stage race that is highly competitive. Professional and amateur cyclists from all over the world come here to train and then test their training during this challenging weekend. Stage races are a rare commodity and we're honored to be able to offer that in one of the best cycling communities in the country." – Marco Colbert, Race Director, Tucson Bicycle Classic
About Tucson Bicycle Classic:
The Tucson Bicycle Classic is a 3-day competitive stage race scheduled to take place March 3-5, 2023. TBC is USAC sanctioned, and offers equal cash purses for male and female athletes. Proceeds from this event will benefit El Grupo Youth Cycling, a nonprofit youth cycling organization in Tucson that empowers youth and encourages a lifelong love of riding. A special Women's New Racer Program is also planned for the 2023 season that will give women an opportunity to try road racing for the first time.
About The Meteor:
The Meteor has locations in both Austin, TX and Bentonville, AR, with a location planned to open in Tucson in late 2023 or early 2024. The Meteor was founded by business partners Doug Zell, the co-founder of Intelligentsia Coffee, and Chris St. Peter, a former attorney. Both are avid cyclists and close friends, largely through their shared love of the sport. Their vision began with a desire to create a beautiful environment that combines all the things they love under one roof: great coffee, wonderful wine, delicious food, and, of course, bicycles. Thus The Meteor was born: Espresso | Champagne | Chain Lube. Through The Meteor they hope to offer a unique, all-encompassing experience that strives to be better as each day passes.
###
PRESS CONTACT:
Bekah Collins
520-481-1184
bekah@goodnewscommunications.co