Triathlon of Senses experience set for second edition in Ibiza
February 2, 2023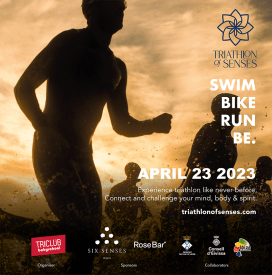 Embark on a personal challenge as part of the traditional triathlon format enhanced with meditation and yoga at Triathlon of Senses.
IBIZA, Spain – February, 2023 /ENDURANCE SPORTSWIRE/ – The world's unique endurance sporting experience with a touch of Zen, Triathlon of Senses, is set for its second edition April 23, 2023. Kick off your 2023 triathlon season at Six Senses Ibiza with this captivating format of multisport, alongside the authentic Ibiza experience of community, spirituality and celebration. The event takes place at the Six Senses Ibiza resort, one of the leading resorts in the Mediterranean.
On April 23rd, Six Senses Ibiza is hosting the Triathlon of Senses. Anything but an ordinary triathlon, the event is a journey of mind and body, merging both the physical and spiritual dimensions. Rather than starting with a dash to the water, the Triathlon of Senses starts with a tailormade warm-up yoga followed by a meditation session aimed to enable the athletes to harness the power of breath, movement, and energy for individual performance. Then it's time to swim, bike and run and cross the finish line. A special winding down yoga, a self-appreciation meditation and finally an Ibiza style celebration close out the event. It's not only a competition, it is also a personal challenge that celebrates one's energy, focus and endurance. The event features olympic, sprint and super distances along with a super sprint relay category.
Dive into the full weekend experience at Six Senses Ibiza, with a complete triathlon and wellness-focused weekend led by world class triathlon coach Vicent Beltran.
Nestled in the stunning setting of Xarraca Bay in the northern tip of Ibiza, Six Senses Ibiza with its views across crystal blue waters and wild cliffs are the backdrop to a distinct preparation aimed at producing a unique frequency that heightens and creates a totally different experience. Ibiza offers a variety of ideal spots for sports training and relaxation.
Registration for the April 23rd event here:
OLYMPIC event — 1.500 m SWIM – 40 km BIKE – 10 km RUN
SPRINT event — 750 m SWIM – 20 km BIKE – 5 km RUN
SUPER SPRINT event — 375 m SWIM – 10 km BIKE – 2,5 km RUN
Team Sprint relay — 750 m SWIM – 20 km BIKE – 5 km RUN
THE SIX SENSES IBIZA TRIATHLON WEEKEND EXPERIENCE
Being in an optimal state of mind and body at the start line will enhance how you will cross the finish line.
The Six Senses Ibiza Triathlon Weekend Experience includes biohacking, inspirational lectures and coaching, restorative yoga, meditation, massages and more. The weekend experience was conceived with a single goal; to get you into a mentally focused, emotionally elevated, and optimal physical state to the triathlon starting line as well as a mindfulness to embrace the experience and the accomplishment.
Stay in one of Six Senses Ibiza's stylish and calming rooms or suites for two nights, including nutritious breakfast, race entry to the Triathlon of Senses event and a tailor made program designed to best prepare you for the race with the support of Coach Vicent Beltran. This weekend package further includes sports related biohacking treatments such as compression boots, a spa voucher worth 100 Euros as well as access to the full range of the resort's spa, gym and daily activities such as yoga, meditation, breathwork, sound healing and more.
The Six Senses Ibiza Triathlon weekend (April 21st – April 23rd), two nights from 2,187€ pp to 2,377€ per couple. To book, visit Triathlon of Senses or email : reservations-ibiza@sixsenses.com.
###
About Triathlon of Senses
Location: Six Senses Ibiza
Date: April 23rd
Categories: Juniors, U23, Age Group
Race distances: Super Sprint, Sprint, Standard distance (Olympic), Relay.
Race format: Yoga, Meditation, Swim, Bike, Run, Yoga, Meditation, Celebration
Registration: Triathlon of Senses
About Six Senses Ibiza
Six Senses Ibiza is the first sustainable BREEAM certified resort in the Balearics, occupying a breath-taking position in Xarraca Bay on the island's northern tip. With unobstructed sunset views and surrounded by fragrant groves and artisan villages, the resort features 137 guest rooms, townhouses, mansions and beach caves. Three restaurants and a selection of informal dining settings and bars highlight natural, sustainable and local produce, much of which is sourced from the resort's farm and gardens. Live layers of programming and experiences celebrate music, art, fashion, pioneering wellness, culinary exploration, and culture
Six Senses operates 21 hotels and resorts in 17 countries under the names of Six Senses and Evason and has signed a further 33 properties into the development pipeline. Part of IHG Hotels & Resorts, Six Senses serves as a changemaker and maintains a leadership commitment to community, sustainability, emotional hospitality, wellness, and crafted experiences, infused with a touch of quirkiness. Whether an exquisite island resort, mountain retreat, or urban hotel, the vision remains the same: to reawaken people's senses so they feel the purpose behind their travels and ultimately reconnect with themselves, others and the world around them. Figures as of March 31, 2022
For further press information, please contact:
Kelly Reed
Public Relations
Stamped Strategies
T +34 646 424100