Training Plans Added to Challenge Platform Sodisp.com
October 13, 2021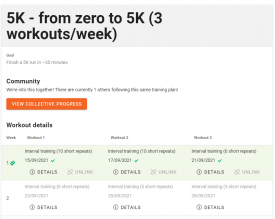 Sodisp is the most complete and engaging platform to host hybrid events and challenges. The only platform with Strava, Garmin, and Polar auto-sync. Start your hybrid event or virtual challenge today on sodisp.com!
We are thrilled to announce the immediate availability of our newest feature: training plans. Offering training plans as part of your challenge provides a great way to get your participant interact with your brand and sponsors, months ahead of race day!
Whether your event is in-person, hybrid, or virtual, adding training plans enables many new touch points. Each workout is announced by a customizable email, allowing you and your sponsors to keep top of mind for your participants for months leading up to your event.
Available Training Plans
We have plans available for different levels of experience, from absolute beginners getting ready to finish their first 5K race to pro level marathon runners looking to improve their finish time. Available distances are: 5K, 10K, 10 miles, half marathon, and full marathon. Please reach out to us when you would like to use your own training plans instead.
Social Training
To encourage participants to finish their training plan, we show the progress of other users following the same plan. This will help motivate participants to keep going when it gets touch! Participants can share their progress with friends online and our leaderboards allow them to see the progress of others following the same training plan.
Up-sell Opportunity
As event organizer, you can decide whether you want to make training plans available to all your participants, or only to those who have purchased them as an option during the registration process. This not only can generate additional registration revenue but allows you (and your sponsors!) to stay in touch with your participants between the moment they register and race day.
Full-service or self-service packages
With our Full-Service package we will do the setup, configuration, and support for your event. Just tell us how you want it to look and work and we do everything else! You still have access to all reports and data. With our Self-Service package you are in charge of your event and end user support. We are always available for help in case you have a question.
Auto-sync with all major fitness brands for the best possible experience
Using our unique Garmin, Strava, Fitbit, MapMyRun, Polar, Suunto, and COROS integrations, owners of these devices can automatically sync their activities the moment they save an activity on their app/watch! We will take their activity and connect it with the virtual challenges they participate in.
We also support manual entry and the upload of gpx files to allow everyone to join the challenge. We automatically validate each activity based on the selected activity type to keep leaderboards clean.
Host your virtual or hybrid event on sodisp for the ultimate experience
Hosting a hybrid event or virtual challenge on sodisp is easy; using our powerful self-service tools help you can go live within a day! Competitive pricing solely based on the actual number of registrants for your event with no up-front or hidden fees. Do you have a larger event or questions about a white-label or tailor-made solution? Contact us to discuss pricing and possibilities.
Contact us (or request a demo) at hello@sodisp.com to learn how we can help increase engagement and sponsor value of your event!
About sodisp: sodisp.com was launched in May of 2020 by the founder of the largest running app in The Netherlands with over 10 years of experience in the endurance sports industry. sodisp.com is the most engaging challenge platform available on the market. Feel free to contact us at hello@sodisp.com.