Tough Mudder Launches 2022 Global Calendar and New Distances
September 21, 2021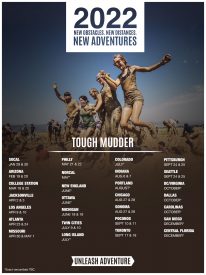 5K, 10K and 15K Courses Offer Obstacle-Packed New Adventures
BOSTON, Mass. (Sept. 21, 2022) /ENDURANCE SPORTSWIRE/ — Tough Mudder, the global leader in obstacle course adventures, announced the launch of its 2022 season calendar, including new distances and more obstacles than ever before. The company is also expanding its calendar to offer more events to meet post-COVID demand across the U.S.
Starting in 2022, Tough Mudder will offer three different distances:
Tough Mudder 5K: 3+ miles & 13 obstacles – The Tough Mudder 5K is a fast, obstacle-packed course full of team-oriented challenges
Tough Mudder 10K: 6+ miles & 20 obstacles – New for 2022, The Tough Mudder 10K features the perfect mix of world-class obstacles to challenge your team
Tough Mudder 15K: 9+ miles & 30 obstacles – The Tough Mudder Classic now features more obstacles than ever before. Different name, same formidable challenge.
"2020 presented significant challenges for endurance sports & adventure communities, but 2021 proved that the Mudder community was eager to get out on the course — selling out many of our events," said Tough Mudder CEO Kyle McLaughlin. "With the launch of our 2022 calendar, we're thrilled to offer new event formats for a full, adventure-packed year ahead. Whether you opt for the 5K, 10K or the classic 15K, we look forward to welcoming new Mudders and Legionnaires alike to our events next year."
As part of this, Tough Mudder is expanding its offerings across the United States, Canada and the United Kingdom, offering the broadest global calendar since 2018, including:
Returning to locations that haven't hosted a Tough Mudder presence since 2019 and prior, such as Arizona, College Station, Toronto, Long Island and Lake Elsinore
Expanding Tough Mudder's presence on the West Coast to include five events in California, a new event in Portland and a return to Seattle
Offering multiple events throughout the Midwest where Tough Mudder has a strong community
Expanding a base in the Southeast with new events in Central Florida in December 2021, as well as in Jacksonville, Atlanta and the Carolinas in 2022
Tough Mudder is offering early bird prices to lock in your preferred start time at your closest or favorite events, available until 11:59pm on Sept. 30. A fixed number of spaces are available each hour, and most events sold out well in advance of the day of the event in 2021.
Tough Mudder also plans to launch a new endurance concept aptly named "Tough Mudder Infinity" on September 28, and launch its season pass offering on October 1.
For more details about the new event formats, information about season tickets and to see the full 2022 calendar, please visit https://toughmudder.com/obstacle-course-2022/
About Tough Mudder
Founded in 2010 with the launch of the Tough Mudder obstacle course event series, Tough Mudder is a leading global sports and active lifestyle brand, now part of the Spartan global family of extreme endurance properties. With more than 6 million participants, the company hosts more than 130 challenges (Tough Mudder Kids, Tough Mudder 5K and Tough Mudder Classic) and endurance (Tougher Mudder, Toughest Mudder and World's Toughest Mudder) events annually in 19 countries. The company's content studio provides millions of engaged online brand enthusiasts with wellness, nutrition and inspiring content delivered daily across social and digital platforms. Tough Mudder's brand of teamwork-based challenge events and digital fitness experiences are unique in the endurance and obstacle course industries, and over 500,000 new participants are welcomed to the global Tough Mudder community every year. For more information visit www.toughmudder.com.
Contacts:
Emily Escovar: emily.escovar@toughmudder.com