Tough Mudder Announces 'Human Right to Adventure' Initiative
May 5, 2022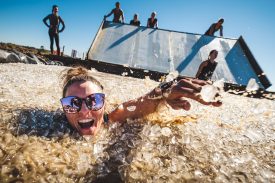 By Lowering the Barrier to Adventure and the Outdoors, Tough Mudder Creates an Inclusive and Accessible Environment for All
BOSTON, Mass. (May 5, 2022)/ENDURANCE SPORTSWIRE/ – Tough Mudder, the global leader in obstacle course adventures, today announced a new initiative advocating for adventure as a human right. From accessibility to sustainability and beyond, Tough Mudder is dedicated to ensuring that all humans have the ability to get outside and experience adventure. With obstacle course racing in position to have an even greater presence on the world stage in the coming years, Tough Mudder makes it possible for everyone to test their mettle on its courses and experience the thrill of the sport.
"Our participants not only include seasoned athletes, but also those who are new to their fitness journeys, adaptive athletes, and everyone in between," said Tough Mudder CEO Giles Chater. "Deciding to take on a Tough Mudder is a daunting challenge, especially for our participants who have special needs, so we've created new programs that provide resources and lower the barrier to entry, making Tough Mudder even more accessible for all."
Adaptive Athlete Program
Tough Mudder is dedicated to helping adaptive athletes push their boundaries, which is why the company has launched a new adaptive athlete program. This program ensures that adaptive athletes have the resources, answers and support they need from signing up for a Tough Mudder to crossing the finish line, including:
Adaptive-friendly events: Tough Mudder is launching an all-new calendar of adaptive-friendly events in 2022. These events feature modified obstacles for adaptive athletes that will help push their boundaries in a safe and supportive environment.
Guide, team and equipment matching: With its new guide process, Tough Mudder matches adaptive athletes with guides and teams who will support their journey on the course and connects adaptive athletes who need equipment with existing resources.
Educational content: Adaptive athletes often have specific questions before they get onto the course, which is why Tough Mudder created new adaptive athlete-specific educational FAQs and live webinars. Tough Mudder also offers testimonials from other adaptive athletes who have previously completed distances ranging from 5Ks to endurance events like World's Toughest Mudder, giving future participants an overview of what to expect.
For more information about Tough Mudder's Adaptive Athlete programming, please visit toughmudder.com/adaptive-athlete.
Sustainability
With events taking place in nearly every type of environment, from deserts to mountains and swamps, Tough Mudder is dedicated to preserving the land and environment. Tough Mudder is taking new steps to limit our impact on the planet by:
Reducing the reliance on plastic cups at events
Minimizing the use of generators
Reducing overall travel and fuel consumption
Investing in more sustainable and reusable materials
Kids' Grant Program
The outdoors isn't always easily accessible to all, especially for those who live in urban areas. Through its new grant program, Tough Mudder is providing tickets to underserved communities to help kids and families living in urban areas experience adventure outdoors.
To learn more about the Tough Mudder Kid's Grant program, please visit here.
Supporting the human right to adventure, some of the world's biggest brands have signed on as Tough Mudder partners for the 2022 season including Bob's Red Mill, Craft, Every Man Jack, Fabletics, Gatorade, Reign Total Body Fuel and Yukon Jack.
To learn more about Tough Mudder and sign up for a 2022 event, visit toughmudder.com.
About Tough Mudder
Founded in 2010, Tough Mudder is a leading global sports and active lifestyle brand that creates the world's most extraordinary adventures and champions the power of teamwork. With more than 6 million participants, the company hosts more than 130 challenges (Tough Mudder Kids, Tough Mudder 5K, Tough Mudder 10K, and Tough Mudder 15K) and endurance (Tough Mudder Infinity, Toughest Mudder and World's Toughest Mudder) events annually in 10 countries. The company's content studio fuels a global movement of people who work together to uncover their hidden potential, providing millions of engaged online brand enthusiasts with wellness, nutrition and inspirational content delivered daily across social and digital platforms. More than 500,000 new participants are welcomed to the global Tough Mudder community every year. The company is part of the Spartan global family of extreme endurance properties. For more information visit www.toughmudder.com.
Contacts:
Emily Escovar: emily.escovar@toughmudder.com