Today's Plan launches "Communities"
October 20, 2021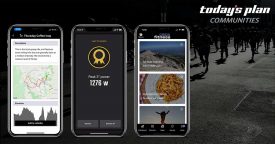 A whole new way of engagement for coaches, clubs & federations
/ENDURANCE SPORTSWIRE/ – Today's Plan has announced an extensive suite of digital tools to allow coaches, clubs and federations to create their own training community, whether they have 10 or 10,000 members or athletes. This suite of tools is known as "Communities".
"Communities" allows these organisations to offer a much higher quality training experience for their 1:1 coached athletes, through to their large squads or membership base.
Today's Plan is reshaping the endurance sport world by introducing a set of tools that live within their platform that allows coaches, clubs & federations to:
Distribute their educational knowledge in app via a dedicated content feed, while protecting their IP
Prescribe & update training to large groups of members with flexibility on an unprecedented scale
Technology tools to allow for simple member onboarding and community engagement
Gamification of outdoor training
See the 2 minute overview video here: https://youtu.be/Z9eQUFpnd2k
Today's Plan has been working with several leading organisations to implement these tools as part of their "launch cohort".
These organisations include; Purple Patch Fitness, Thomas Endurance Coaching, Brownlee Fitness, Power and Pace, AusCycling, Endure IQ and Team EF Coaching.
New features:
Content Feed
A coach's knowledge is what makes them "special". Content Feed allows them to share that knowledge on a much larger scale, at the right time of their athlete or member's training.
Coach / club / federation curates & controls the feed. The athlete or member sees it "in app".
Compliments existing content tools within Today's Plan
Dynamic training plans
Dynamically update or change training for a large group of athletes as often as required
Training Plan library & distributor
Organisations can sell & maintain all the revenue from their plan sales
Multiple ways to sell or share these plans with customers / members
Easy onboarding
"Communities" solves the problem of onboarding an athlete or member, from taking their payment, to setting their training zones & attributes and prescribing their workouts. Communities is flexible so that it fits the desired workflow of the coach or organisation.
Route Builder
For the coach and the member
Coach / club / federation can set a group activity as part of training prescription
Athletes can create their own adventure
Automatically syncs to Garmin devices
Activity recording with sensor pairing
Available on iOS & Android
Reliably pairs to common bluetooth sensors including heart rate & power
Great back up for seasoned athletes
Lowers the cost of participation for new members
Live achievements
Gamification of outdoor training on iOS
Instant recognition for athletes as they achieve a range of PBs
API integration
The API allows coaches, clubs & federation to connect their website to Today's Plan
Allows a much more streamline experience for their members & athletes
Media Enquiries: kylie@todaysplan.com.au