Three GFNY races in Quito in 2022
March 15, 2022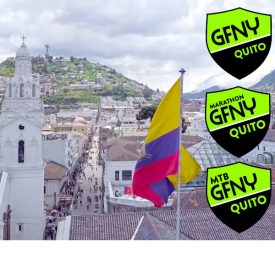 GFNY will offer a city marathon, a mass participation road cycling race and a mountain bike marathon in Ecuador's capital, Quito
NEW YORK CITY, March 15, 2022 /ENDURANCE SPORTSWIRE/ – GFNY Global Endurance Sports Series is offering three races in Ecuador's capital Quito in 2022: the city marathon, a mass participation road cycling race and a MTB Marathon. City officials chose GFNY due to its experience in producing international endurance sports events.
"We're excited to work with the city of Quito to produce no less than three world class events," says GFNY CEO Uli Fluhme. "Ecuador's capital has the perfect weather and an amazing high altitude setting for endurance sports."
GFNY MTB Quito on August 21 is a 58 km off road course with 2758 m of climbing just steps away from the capital in the Pululahua Geobotanical Reserve.
GFNY Marathon Quito on October 9 is a true city marathon on a one loop course through the heart of historic and modern Quito.
GFNY Cycling Quito on November 20 will start and finish in the heart of the city and include the cobble stoned and historic Guapolo climb. The 124km long course with 2298m of vertical climbing is set at 3000m above sea level on the hillside of the Andean mountains with its snow covered volcano peaks.
About Quito
Quito is Ecuador's capital city and located in the Andes at 2850 metres above sea level. It's the oldest capital city in South America and is famous for its well preserved buildings and unique style combining colonial buildings and Inca architecture. Quito was built over the foundation of an old Inca City and has been declared a World Heritage site by UNESCO.
In Quito you will experience standing between two hemispheres, exactly at 0 latitude.  Quito offers a variety of restaurants and bars to enjoy the best Andean and international cuisine.
Websites:
quitomtb.gfny.com
quitomarathon.gfny.com
quito.gfny.com
About GFNY Global Endurance Sports Series
GFNY Global Endurance Sports Series is a sports event company with three decades of experience in racing, planning and organising events. The global endurance sports brand hosts multiple events throughout the year around the world on five continents.
Working with partners around the world to deliver a first-class experience, GFNY Global Endurance Sports Series puts their athletes first.
Cycling
30 plus events around the world. View the 2022 calendar here
Riders get to BE A PRO FOR A DAY ® by competing against others, themselves and the clock in a personal endurance challenge.
Top 10% (20% at regional championships) of finishers in each age group qualify for the Racer Corral at every GFNY World event.
GFNY World Championship NYC
The 10th annual GFNY World Championship New York will be held on May 15, 2022. The race features the world's most international peloton with riders from over 90 countries. Athletes take on a challenging 100-mile route from NYC to Bear Mountain to Fort Lee to compete against each other, the clock and themselves in a personal endurance challenge.
The official GFNY website is: www.gfny.com.
Further Material for Media Use
Official GFNY Quito video: here
GFNY Press Images: here
GFNY Results: here
GFNY World calendar graphic: here
Previous GFNY press releases: here
Media Contact
Gran Fondo New York Inc.
Uli Fluhme, uli@gfny.com
Caroline Lindsay, caroline@gfny.com