Thousands of Runners Beat the Heat in Wine Country
July 17, 2023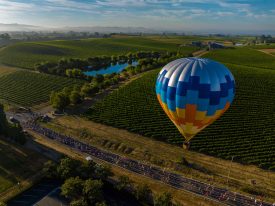 20-year-old Nolan Hosbein, Japan's Mirai Waku win 19th annual Charles M. Schulz-Sonoma County Airport Napa to Sonoma Wine Country Half Marathon
Sonoma, CA /ENDURANCE SPORTSWIRE/ – A cross country and track runner at the University of Portland, Nolan Hosbein credits his mother for steering him toward the sport. Mom has been running road races for years and Nolan literally followed in her footsteps at races.
"She's my biggest supporter," said Hosbein.
And on a picture-perfect day for touring the Sonoma County wine country, Hosbein repaid his mother. Hosbein won the Charles M. Schulz-Sonoma County Airport Napa to Sonoma Wine Country Half Marathon on Sunday morning in 1 hour, 9 minutes, 46 seconds, and to the winner goes an exclusive bottle of vino from Cuvaison Winery.
One problem. Hosbein, 20, isn't of legal drinking age. So his mother, Eileen Hosbein, was given the winner's prize. She earned it, finishing in 1:42:20.
"I didn't know I was going to get the wine, so this is my perk," said a beaming Eileen.
Understandably, on a morning when thousands of runners took to the stunningly scenic course for the 13.1-mile half-marathon, Eileen was proud of her son.
"He started in middle school, ran in high school, earned himself a scholarship to college, for academics and athletics," said Eileen. "He's been driving the train the whole time. He loves it and we love doing it together."
The race starts in stunningly beautiful Napa and on the rolling-hill route to Sonoma passes countless wineries. A finance major, Hosbein showed his smarts by not going out too fast.
He paced himself up an early hill, caught the leader at 5K, took the lead, then let second-place finisher Grant Grafentin back into the race.
"It was getting tough (by Mile 10), and I could hear him getting closer," said Hosbein. "So I figured it was best to maybe slow up, wait for him to get up there and work with him a little bit."
With a mile to go, Hosbein dropped the hammer and beat Grafentin to the finish line by 16 seconds.
Hosbein first ran the wine country half-marathon at 16, with his mother. They live in nearby Petaluma and rave about the scenic 13.1-mile layout.
"It's probably the most beautiful course I've ever run," said Eileen. "We've got vineyards everywhere, beautiful homes, hot air balloons. You can't beat it."
Mirai Waku of Japan won the women's half marathon in 1:16:43. Delaney Miller, a Stanford graduate student pursuing a Ph.D. in mechanical engineering, placed second.
"Oh man, it is a beautiful course," said Miller. "It's awesome seeing the crowd come together in downtown Sonoma for the finish line. It feels more like a celebration."
Sunday marked the 19th edition of the road race. The sellout field was treated hot air balloons hovering above the start line, the lush, green terrain, rolling hills and vineyards. It's a course Forbes magazine ranked as one of the seven most beautiful half-marathons in the United States.
Jon Stout, the Sonoma County Airport manager, raved about the race, what it means to the local community and the draw for runners.
"Coming out of COVID, people wanted to get out and visit, our traffic is growing, and this was a great opportunity to connect those people visiting the area.," said Stout, about the airport's first year partnering with the race. "This event has got it all. Hot air balloons, the vineyards, hills. You're in wine country. It's picture perfect."
The summertime fitness tradition will return next year to celebrate 20 years running on the weekend of July 20-21, 2024. For complete results, photos and more, visit www.RunSipNapaSonoma.com.
About Charles M. Schulz – Sonoma County Airport (STS)
Located in the heart of Northern California's world-renowned Wine Country, the Charles M. Schulz – Sonoma County Airport is the only airport that offers scheduled air service into the North Bay region. Daily nonstop flights include: Alaska Airlines to Los Angeles, Burbank, Orange County, San Diego, Portland and Seattle; American Airlines to Phoenix and Dallas;Avelo Airlines to Burbank, Las Vegas and Palm Springs (11/11/2022). All airlines offer a wide range of connecting flights to destinations across the continental U.S., Mexico and beyond.
Offering a hassle-free experience with shorter lines and an easier commute for North Bay residents, STS also features convenient ground transportation, easy and affordable parking with 2-hours free and electric vehicle (EV) charging stations, Alaska Airlines' Wine Flies Free program, the on-site Sky Lounge Steakhouse & Sushi Bar, Apple Spice, Flight Deck Wine Lounge and Costeaux on the Go. For additional airport information, visit flySTS.com and follow Charles M. Schulz–Sonoma County Airport (STS) on Facebook, Twitter, LinkedIn and Instagram.
About Napa to Sonoma
The 19th annual Charles M. Schulz-Sonoma County Airport Napa to Sonoma Wine Country Half Marathon and Rosé 5k (#STSN2S) returns the weekend of July 18-19, 2023. The world-renowned Napa and Sonoma Valleys serve as the host of this incredible 13.1-mile racing and tasting event; offering the finest in ambience and hospitality featuring a picturesque course that winds through rustic farms, lavish estates and scenic vineyards. Wine Country's favorite summertime running event is a weekend celebration, including a free two-day Health Expo in downtown Sonoma Plaza and a finish line Wine Tasting festival on Sunday showcasing more than 20 local wineries and live music. Over the race's 18-year history, charity partners have fundraised more than $25 million for a variety of worthy causes and nonprofit organizations. For more information or to sign up for the race, visit RunNapatoSonoma.com and follow @Napa2SonomaHalf on social media with the hashtag #STSN2S.