Thousand Prioritizes Inclusivity and Rider Diversity in Heritage 2.0 – An Innovative Evolution of its Best-Selling Helmet
April 4, 2023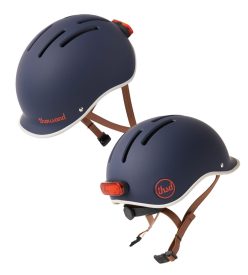 In addition to a more inclusive fit, the new helmet will boast 70% increased ventilation and magnetic tail light compatibility
Los Angeles (April 4, 2023) /ENDURANCE SPORTSWIRE/ – Thousand, creators of vintage-inspired, innovative bicycle helmets and safety accessories, is proud to announce the launch of its Heritage 2.0 helmet, the next evolution of the brand's flagship model. Thousand prioritized diversity and inclusivity in designing the new helmet, hosting a comfort study performed on a large group of diverse individuals to develop a hybrid headform that fits riders of all backgrounds more comfortably. Implementing eight years of customer feedback, the next generation of the Heritage helmet will also include performance enhancements like 70% more ventilation and magnetic tail light compatibility.
"An often overlooked component of increasing diversity, inclusivity and accessibility in biking and riding communities is product design," said Thousand's Founder Gloria Hwang. "There are real barriers – functional, emotional, financial and cultural – standing in the way of people choosing alternative modes of transportation. It's our hope that the inclusive design of our Heritage 2.0 helmet serves as a welcome to customers who have not felt accounted for in the cycling space."
With a re-engineered headform, new internal padding, and an updated proprietary fit system, the Heritage 2.0 is intentionally constructed to minimize pressure points and hot spots for riders whose head shapes are not typically designed for in the United States and Europe. Large market manufacturers predominantly model helmets for those of European-descent, resulting in a more oval head shape in circumference which can leave individuals of Asian-descent (more round head shape in circumference) with ill-fitting helmet options. Thousand's Heritage 2.0 boasts a hybrid headform – between Asian and European head shapes – and a fit system that allows for more customizable comfort for all riders.
The Heritage 2.0 will also feature two key technical performance enhancements including active cooling with more ventilation channels and added visibility as the helmet is now compatible with a Heritage 2.0 specific magnetic tail light set to launch in early summer. Fan-favorite innovations in the Heritage helmet, like Thousand's PopLock and no-pinch magnetic buckle design, will carry over into the Heritage 2.0 helmet.
The Heritage 2.0 (MSRP $99) is available today on explorethousand.com in eight colors signature to Thousand's Heritage helmet. Four more new colorways, including a Moto Collection and Super Bloom Collection, will debut in the spring. The Heritage 2.0 compatible tail light will be sold separately (MSRP $25), launching online in June 2023.
Please direct Thousand media inquiries to New Local PR Founder and Account Director Anna Avery at anna@newlocalpr.com.
About Thousand
Thousand was founded in 2015 after a friend of CEO and founder Gloria Hwang passed away from a bicycle accident. The mission behind the sustainable, vintage-inspired helmet brand was to make safety seamless and save the lives of 1,000 riders…which the brand accomplished in 2022. Hwang wanted riders to have a helmet that could provide safety and compliment style. Initiated as a Kickstarter campaign, Thousand raised enough for initial helmet molds in one week. The Los Angeles-based brand has since established itself as the top choice for modern urban cyclists. A Public Benefit Corporation, Thousand concentrates on social impact with sustainability as its driving force.