Thömus Bikes Head to Glasgow for UCI MTB World Championships with Three Favorites
August 7, 2023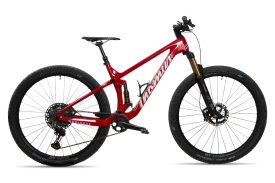 Thömus Maxon Team sends three World Cup winners gunning for XCO/XCC Rainbow Jerseys on flagship Lightrider World Cup bike
Santa Monica, California (August 7th, 2023) /ENDURANCE SPORTSWIRE/ –  Thōmas Maxon Team, current UCI team points leaders are ready to head to Glasgow with 4th placed UCI ranked Lars Forster, winner in Leogang, 19th placed Mathias Flückiger who took 2nd in Val De Sole, Vital Albin, U23 rider Luke Weidmann, and the overall UCI women's points leader Alessandra Keller. All five riders will be part of a strong Swiss team looking to take home the coveted rainbow jersey once again for Switzerland.
The entire Thömus Maxon Team will be riding at Worlds, and this is the most riders from any team. All will ride their highly touted Thömus Lightrider World Cup bikes, and Kathrin Stirnemann will race in the E-mtb race on her Lightrider E2 Pro. The team will also have the Lightrider E Ultimate to use for training. All models are available in the US in limited quantities.
With all team riders enjoying exceptional seasons, there is a strong chance for multiple podiums. And those chances look even stronger considering the Thömus Maxon team manager, Ralph Näf, is no stranger to World Championships, having won the Rainbow Jersey twice in his own racing career: Marathon Worlds in 2006 and the inaugural Eliminator World Championship in 2012. He has high hopes to be part of another World title.
"Our preparation for this year's Worlds has been perfect. We have had some great World Cup results, and morale within the team is high," says Näf. "We're confident that momentum will help us see some strong performances. And the riders are really happy with their Thömus bikes which adds to that confidence."
Regardless of results, Casper Casparian, CMO for Thömus USA, sees exposure at Worlds as a key element in growing awareness in the US. "In Switzerland and Europe, Thömus is becoming well known, and much of that is thanks to the success of the team at the World Cup level," he says. "Here in the US, the increased TV coverage is bringing Thömus great brand awareness here in the US too. We're excited for the World Championships, and we wish the team all the best. Hopefully, we can see the jersey on the back of another Swiss rider this year, preferably one who rides a Thömus bike."
The Thömus brand was founded in Switzerland in 1991, quickly earning its reputation for dedication to custom-tailoring bike models and specs for each individual rider. Thömus USA opened its doors in 2022 as the exclusive manufacturer and retailer of Thömus bikes in North America, which they remain today. The US office is putting the final touches on an e-commerce platform to launch within a few weeks, so they're hoping the added exposure from Worlds will help with a successful launch.
Here's some info on the two bikes the team will be using at the World Championships:
Lightrider World Cup ($7500- $13k): The Lightrider World Cup features tremendous versatility; offered in the US as a custom build, the bike can be built for a full XC setup to a more relaxed Trail build. Developed in real-world conditions by the elite athletes and the design and engineering team in-house at Thōmus. Modern assembly standards and a high-tech carbon frame give this bike an unmatched fit and finish. This race bike is the best choice for those who like it a little faster.
Lightrider E2 Pro ($7500-$13k): The Lightrider E2 is state of the art for electric mountain bikes today: powerful, agile, with long range and quick recharging. Because of our extensive customization options, the Lightrider E2 can be equipped at around 40 pounds total weight, to the Ultra Light Ultimate, which is unrivaled in this class. Its modular chassis design offers a range of spring travel from 140 to 170 millimeters and comes equipped with FOX or DT-Swiss systems. The design and engineering team's years of attention to detail have resulted in an e-MTB that features the power for incredible uphill traction and the progressive frame geometry, suspension, and braking to offer rock-solid stability downhill.
For media inquiries, please contact: Scott Boulbol, scott@simbolpr.com; or Nic Sims, nic@simbolpr.com
For anything else, please contact: Casper Casparian, casper@Thomus.com
About Thömus USA: Thömus USA is a retailer and manufacturer of world-class road, mountain, and gravel bikes, including e-bikes, designed by Thömus SA of Switzerland. Thömus USA was founded in 2021 and operates a flagship retail boutique on Montana Avenue in Santa Monica, California. Learn more at Thömus.com
About SIMBOL Communications: SIMBOL Communications formed to help brands tell truthful, authentic stories in the outdoor, cycling, and fitness industries through exposure in a wide variety of media outlets, developing creative content, and sports marketing services. With their multiple decades of relevant experience — as both industry professionals and competitive enthusiasts — the founders of SIMBOL have all the tools to get powerful stories to the right audience.
nic@simbolpr.com, scott@simbolpr.com
310.935.9365; 303.519.3073