Thinkers360 launches new leaderboard on SportsTech to help sports industry influencers and journalists monetize their content and expertise
January 25, 2022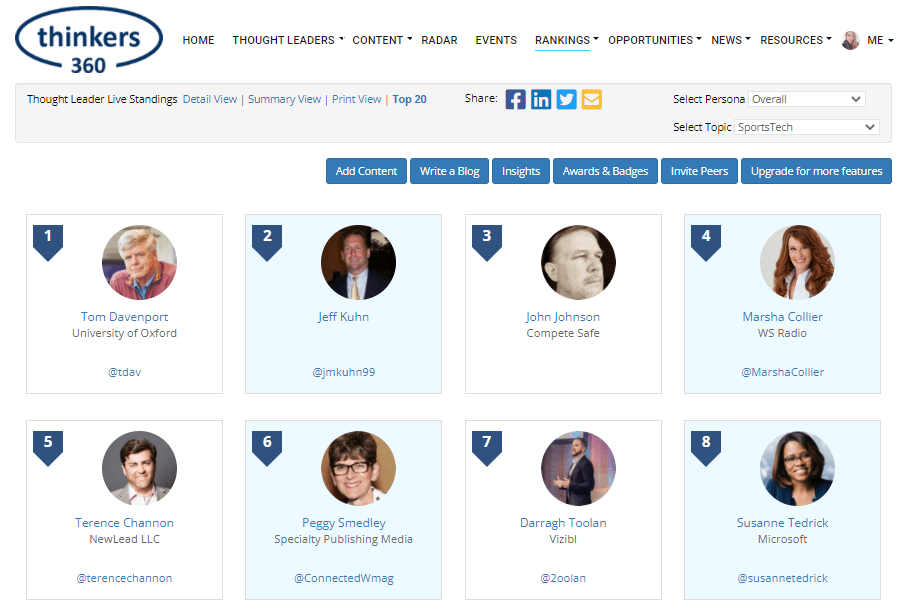 Thinkers360 adds SportsTech to it's premier B2B thought leader community and influencer marketplace whose members have over 100M followers on social media combined
Dallas, Texas – January 25, 2022 – Thinkers360, the world's premier B2B thought leader community and influencer marketplace, today announced a new leaderboard on SportsTech, adding to its HealthTech, Health & Wellness, and over 70 business, technology, and sustainability-related leaderboards.
Sports and fitness industry thought leaders, authors, influencers, speakers, reporters and journalists are invited to join Thinkers360 for free and amplify their personally-authored thought leadership content – including articles, blogs, books, keynotes, media interviews, panels, podcasts, speaking, webinars, and whitepapers – among the Thinkers360 community with over 100M followers on social media combined.
According to Susanne Tedrick, Cloud Specialist, Azure for Sports, Microsoft and co-host of the Azure for Sports podcast, "Thinkers360 has been a wonderful resource in expanding my visibility as a thought leader in cloud computing technology and diversity, equity and inclusion. As the sports tech market continues to grow at an exponential rate, Thinkers360's new leaderboard serves as an important tool – it helps potential audiences find leaders in the space who can speak to the key players, challenges, innovations, and future trends in the market."
Dr Ed Wakelam, Research Fellow at the University of Hertfordshire, is convinced of the rapidly increasing deployment of intelligent analytics in all sports, "For example, our research into footballer analytics shows the acceleration of clubs' implementations of machine learning methods to support all aspects of their footballing business. We can expect to see the clear development of a divide between the success of clubs that adopt and embrace these techniques to support their recruitment and performance groups and those that don't. Thinkers360's launch of this new leaderboard and topic area will be a powerful new tool to get this message out there".
As an expert marketplace, brands and agencies use Thinkers360's Find an Expert functionality to browse extensive thought leader profiles, portfolios, and media kits together with its leaderboards, content libraries and advanced analytics to find and work with the world's premier thought leaders and authentic influencers. They also "influence the influencers" by showcasing and amplifying their own corporate executives, thought leaders and content among the Thinkers360 community and its global audience.
Individual thought leaders and influencers are invited to sign up directly on Thinkers360 to showcase their thought leadership profile and portfolio, build their media kit, amplify their content, and participate in Thinkers360's global leaderboards and opportunity marketplace.
Readers and writers are welcome to join to contribute their own content and to browse amazing content – including articles, blogs, books, podcasts and videos from Thinkers360's community.
About Thinkers360
"Connecting global brands and audiences with the world's foremost thought leaders and influencers on business, technology and sustainability for game-changing results"
Thinkers360 is an opt-in network of the world's foremost thought leaders — including academics, advisors, analysts, authors, consultants, executives, influencers, and speakers — with over 100M followers on social media combined. The company is differentiated by its unique patent-pending algorithms that measure thought leadership and authentic influence looking far beyond social media alone.
Thinkers360's enterprise services help global brands find and work with thought leaders and influencers as well as showcase their own corporate executives, experts and content among the community to amplify their brand and "influence the influencers".
###