The Virtual Tour de Suisse on ROUVY – Discover Beautiful Switzerland on Bike from Home
June 9, 2022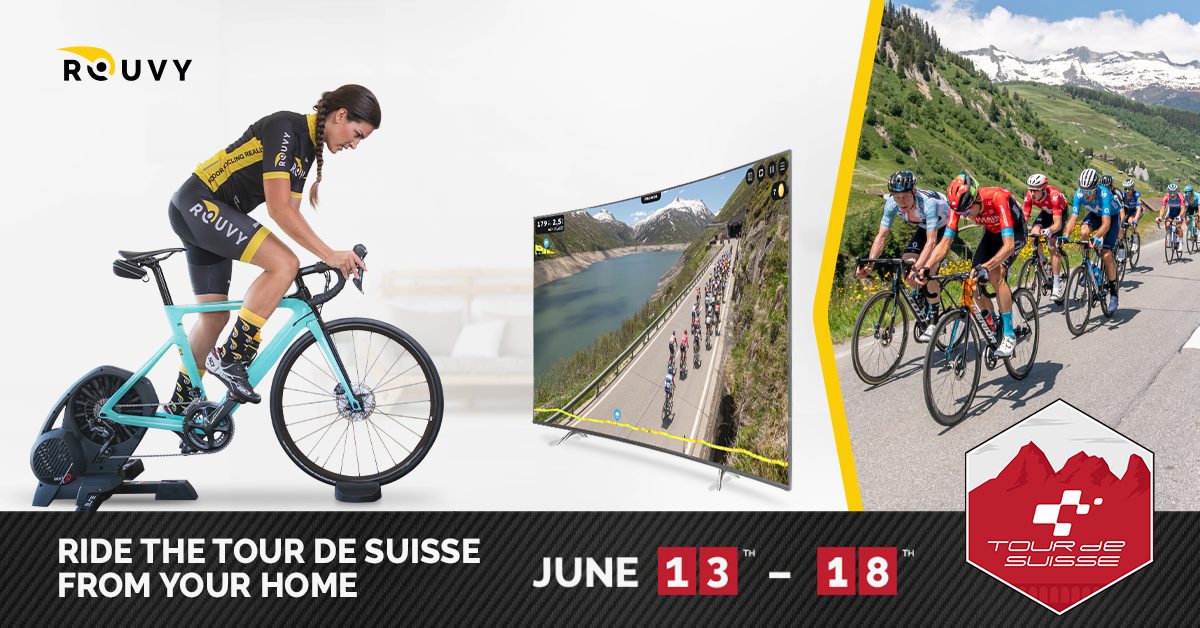 Cyclists of all levels are invited to explore the beauty of the professional Tour de Suisse online via ROUVY, the Official Digital Partner of the Swiss tour. Mapped on the segments of the same courses as the actual 2022 pro race, the virtual community races will run from June 13th to 19th, along the real stages and on the same days as the PROs ride.
Grenchen, Switzerland / June 9th, 2022/ENDURANCE SPORTSWIRE/ –  The 85th edition of the Tour de Suisse starts with the men's first stage on Sunday 12th June in Küsnacht and the women begin their four-day tour on the following Saturday 18th June in Vaduz. Popular stars (among many others) are Peter Sagan, Stefan Küng, Remco Evenepoel, Gino Mäder, Elisa Balsamo, Marlen Reusser and Jolanda Neff.
"ROUVY brings the authentic Swiss racing experience to the comfort of your home. Join in to feel the spirit of the elite competitions and explore the legendary Alpine passes!" says Petr Samek, CEO of ROUVY.

Virtual Race Schedule
June 13 | Race 1 | Tour de Suisse 2022 | Stage 2 | Aesch | 26.9 km
June 15 | Race 2 | Tour de Suisse 2022 | Stage 4 | Brunnen | 27.9 km
June 17 | Race 3 | Tour de Suisse 2022 | Stage 6 | Moosalp | 19 km
June 18 | Race 4 | Tour de Suisse 2022 | Stage 7 | Malbun | 20 km
Races start at 19:00 CET and are open to athletes of all abilities; the only requisites are a smart trainer and a screen device. Passionate riders can fight for the standings in the overall general classification.
To register, go to the 'events' section here (to find all ROUVY events, click here).
//Press visuals are here.
###
Press Contact:
In German: Ueli Anken, Media Office TdS, +41 79 638 18 18, media@tds.ch
In Eng: Yuriy Ryashko, +420 778 488 077, press@rouvy.com
About ROUVY
ROUVY offers thousands of exciting virtual roads to join the pro peloton online or to compete with friends. Cycling enthusiasts and the most demanding athletes are welcome to cycle the world from their own homes, to stay fit or to get ready for the next race! ROUVY is the official (and proud!) digital partner of the Tour de Suisse from 2020.