The Stubborn Mule Adventure Race provides live tracking again in 2023
June 21, 2023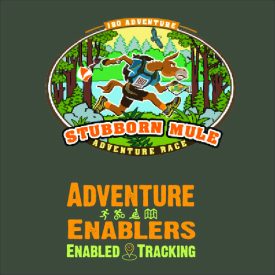 Front Royal, Va. /ENDURANCE SPORTSWIRE/ – The Stubborn Mule Adventure Race will once again be providing live tracking in 2023, thanks to Enabled Tracking. The event is scheduled for June 24, 2023, and is hosted by 180 Adventures, a Wisconsin-based adventure race organizer. During the 30-hour race, teams will bike between 65-85 miles, trek and orienteer for 18-25 miles, and paddle 16-25 miles.
"We are thrilled to be tracking the Stubborn Mule again in 2023," said lead tracker Mark Harris. "It is a long-standing event with a great reputation. The team at 180 Adventures puts on first-class events and understands the importance of live tracking and what it brings to their arsenal of tools to manage an event of this scope."
Race director Paula Waite also recommended Enabled Tracking's services, stating, "I highly recommend Adventure Enablers tracking services! They are incredibly organized and provide excellent customer service and support. It's worth every penny to know where the teams are during those longer races!"
For more information about the event and registration, visit the event website at http://180adventure.com. You can follow the live tracking here https://live.enabledtracking.com/stubborn2023. Any questions regarding live GPS tracking can be sent to info@enabledtracking.com.
Adventure Enablers, a woman-owned small business headquartered in Front Royal, Virginia, has over a decade of event experience and complementary equipment and logistics skills. The Adventure Enablers team partners with race directors, charities, property owners, businesses, cities, and states to bring high-quality and fun endurance events that enable goal achievement and adventure. Enabled Tracking is the timing and tracking wing of Adventure Enablers, providing real-time GPS timing and tracking services for endurance events.