The SOS Curacao Triathlon – presented by LionsDive
November 29, 2021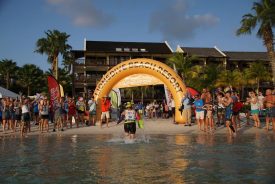 LionsDive becomes SOS Curacao Triathlon's Title Sponsor for 2022
/ENDURANCE SPORTSWIRE/ – Foundation Tri Curacao is very excited to announce that it has partnered with LionsDive Beach Resort to be its Title Sponsor for the 2022 Race! Not only will this partnership bring great synergy with the race, as the FINISH line lands right on the resort beach, it also marries the adventure race and love for triathlon with a company dedicated health, sport, and well-being.
LionsDive Beach Resort is rightfully the sportiest and coziest resort in the Caribbean, with various sports groups taking up residence at the resort every year and the sporting aspirations are bookend by their crown jewel, a unique 50-meter swimming pool!
Visit LionsDive Beach Resort for more details.
The SOS Curacao Triathlon – presented by LionsDive
LionsDive Beach Resort will be the title sponsor for the Caribbean's ONLY Adventure Race the SOS Curacao 2022. SOS Curacao offers a dynamic 6 stage event consisting of a Bike, Swim, Run, Swim, Run and Swim to the finish at the Survivor line, Kissing the Lion and a sunset BBQ hosted by Chill Beach Bar. This race is an amazing show piece for the island of Curacao.
"We are extremely grateful and excited that the LionsDive Team shares the same vision as Foundation Tri Curacao. LionsDive's willingness to help us produce this event will help propel this Adventure Race to the next level." – Christian Curtin, Foundation Tri Curacao
With international athletes coming from around the world this is one Bucket List event you will not want to miss!
The SOS Curacao is scheduled to take place on March 12, 2022 and more information can be found on the website. SOS-Curacao (COVID19 regulations will be strictly enforced)