The Scotiabank Toronto Waterfront Marathon Returns to In-Person Racing with a 10K on October 17th
August 8, 2021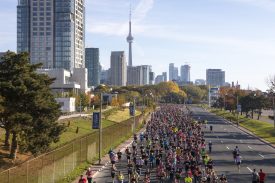 After 19 months, Canada Running Series will be celebrating a long-awaited return to in-person racing with the Scotiabank Toronto Waterfront Marathon 10K on Sunday October 17th. Open to runners across the country, the 10K race will feature a scenic route along the shores of Lake Ontario, starting and ending near Exhibition Place.
As one of the first in-person racing events in the greater Toronto area, organizers are eager to welcome the running community back:
"The 10K is an important step forward for our run community and an opportunity to say 'thank you' to everyone who has stood behind us during the pandemic. We wouldn't be able to even think of offering an in-person event if it wasn't for the thousands of participants who chose to participate in our virtual events in 2020 and 2021" says Charlotte Brookes, National Event Director for Canada Running Series.
Registration will open in two waves, with spots available to Canadian runners who deferred their 2020 Scotiabank Toronto Waterfront Marathon in-person entries and Canadian runners currently registered for the 2021 Scotiabank Toronto Waterfront Marathon Virtual Race first on Wednesday August 11th. Registration will then open to all other Canadian runners on Thursday August 12th. The event is limited to 5000 participants and spaces are expected to fill up quickly.
Participants of the Scotiabank Toronto Waterfront Marathon 10K will receive a race kit featuring a custom New Balance technical race shirt with design by local artist Mark Serrano, a finisher medal, running belt, Toronto landmark stickers, and other items from our partners including Larabar, Nuun, Biotrue and more.
For those who prefer a virtual experience, registration remains open for the Scotiabank Toronto Waterfront Marathon Virtual Race, with distance options ranging from the marathon to 5K at STWM.ca
###
Media Contact:
Jenna Pettinato
Manager of Communications
jenna@canadarunningseries.com
About the Scotiabank Toronto Waterfront Marathon:
The Scotiabank Toronto Waterfront Marathon is Canada's premier running event and the grand finale of the Canada Running Series. Since 2017, the race has served as the Athletics Canada national marathon championship race and has doubled as the Olympic trials.  During the 2020 event, participants raised over $2.96 million for 163 community charities through the Scotiabank Charity Challenge. With innovation and organization as our guiding principles, we stage great experiences for runners of all levels, from Canadian Olympians to recreational and charity runners. Our mission is "building community through the sport of running" and we are committed to making sport part of sustainable communities and the city-building process.