The Running Event Opens 2022 Call for Education
May 2, 2022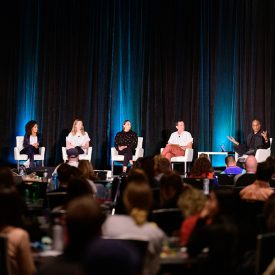 Thought leaders, industry professionals, and influencers are invited to submit a session proposal for the 2022 conference
PORTLAND, Maine (May 2, 2022)/ENDURANCE SPORTSWIRE/ – The Running Event (TRE), North America's premier run specialty conference and trade show, is now accepting proposals for speaking opportunities in the 2022 educational program. The Running Event will be held November 29 through December 1 in Austin, TX.
"Our goal for this year's conference is to provide actionable education to professionals at all levels of experience in specialty retail and event management," said Christina Henderson, Executive Director, The Running Event. "As the run specialty industry continues to evolve and push boundaries, we're searching for individuals who can offer the fresh viewpoints and tangible takeaways our audience requires for continued growth and success."
With the Call for Education, The Running Event furthers its commitment to providing a platform that showcases a range of voices, experience, and expertise. Featuring approximately 20 sessions, the #TRE22 conference will examine critical topics across areas such as market trends and forecast, learnings and inspiration from similar industries, buying, sales strategy, inclusion, sustainable practices, hiring and retention, innovative marketing, the future of events, and modern merchandising. Speaking formats include workshops, keynote presentations, individual and dual sessions, and panels. In addition to being positioned as an industry leader, 2022 speakers will receive a complimentary registration pass, exclusive networking opportunities, and exposure across TRE's digital channels and marketing initiatives.
In further event news, TRE welcomed Running Insight Editor Michael Jacobsen to the conference program team. With his extensive specialty retail experience and running industry connections, Jacobsen will help ensure #TRE22 attendees leave with actionable learnings and impactful takeaways.
Apply to Speak
The 2022 Call for Education closes Tuesday, May 31. Interested individuals are encouraged to submit a session proposal here.
—
About The Running Event
Launched in 2006, The Running Event is North America's largest running specialty trade show. Each year, it attracts thousands of industry professionals seeking the latest in running footwear, apparel, gear, and services. With numerous opportunities for peer-to-peer learning, interactive and forward-looking conference programming, and dynamic product demonstration and discovery, The Running Event is the can't-miss trade show for run specialty. For more information, visit www.therunningevent.com/.
About Diversified Communications
Diversified Communications is a leading international media company with a portfolio of face-to-face exhibitions and conferences, online communities, and digital and print publications. As producers of these market-leading products, Diversified Communications connects, educates, and strengthens business communities in over 15 industries including: renewable energy, healthcare, natural and organic, food and beverage, and technology. Established in 1949 and headquartered in Portland, Maine, USA, with divisions and offices around the world, Diversified Communications remains a privately held, third-generation, family-owned business. For more information, visit: https://www.divcom.com.
###
Media Contact:
Candace Letizia
Marketing Manager
Diversified Communications
cletizia@divcom.com
Exhibitor Contact:
Christina Henderson
Executive Director
Diversified Communications
chenderson@divcom.com