The Running Event Announces Partnership with National Shoe Retailers Association
July 20, 2023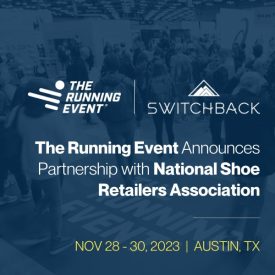 The partnership will expand TRE's support of the specialty retail industry and welcome independent shoe retailers to the 2023 conference and trade show.
PORTLAND, Maine (July 20, 2023)/ENDURANCE SPORTSWIRE/ – The Running Event (TRE), North America's premier specialty retail conference and trade show, today announced its partnership with the National Shoe Retailers Association (NSRA). The partnership will grow TRE's support of the specialty retail industry by opening its doors to independent shoe retailers this November 28-30 in Austin, TX.
The NSRA is a non-profit organization dedicated to helping independent shoe store owners improve business performance through education, networking, and resource-sharing. With leading footwear brands filling the exhibit hall and an educational program built around the needs of specialty retail, the opportunities available to these professionals at TRE are abundant.
"Comfort shoe retailers are experiencing similar trends, opportunities and challenges as run and outdoor specialty retailers," said Christina Henderson, Event Director, TRE. "In addition to our educational program, NSRA members will access TRE's extensive lineup of footwear and accessory brands in the exhibit hall. We're thrilled to welcome this important group of retailers into the TRE community."
As part of the partnership, the NSRA will host a board meeting and present an educational session at TRE. Focused on succession planning, the session will feature learnings and best practices inspired by the association's NextGen program, which assists retailers in passing a store to the next generation of family ownership. TRE will offer discounted admission for NSRA members to attend its conference and trade show this fall.
"Running footwear has grown to be an important part of the mix for most independent shoe stores, so it's great timing for our retailers to attend The Running Event and take advantage of not only the exhibiting brands, but the relevant educational content," said Mark Denkler, President, NSRA.
Learn More
TRE registration opens Tuesday, August 1. Get details about this year's conference and trade show here. To learn more about the NSRA, visit the website.
For media inquiries please contact OutsidePR Partner & Founder, Gordon Wright at Gordon@OutsidePR.com.
###
About The Running Event
Launched in 2006, The Running Event (TRE) is North America's premier specialty retail conference and trade show. Each year, it attracts thousands of industry professionals seeking the latest in footwear, apparel, gear, and services. In 2022, TRE launched Switchback at The Running Event: an exhibit hall expansion showcasing outdoor brands. With numerous opportunities for peer learning, interactive and forward-looking conference programming, and dynamic product demonstration and discovery, TRE is the can't-miss trade show for run and outdoor specialty. For more information, visit www.therunningevent.com.