The Running Event Announces "For Every Run Film Festival" in Partnership with Pacers Running
September 15, 2022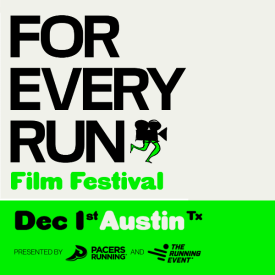 The first annual film festival will celebrate the best stories from the world of running at The Running Event 2022 this fall
PORTLAND, Maine (September 15, 2022)/ENDURANCE SPORTSWIRE/ – The Running Event (TRE), North America's premier specialty retail conference and trade show, has partnered with Washington, DC-based retailer Pacers Running to present the first annual For Every Run Film Festival. The festival will take place December 1 at The Running Event in Austin, TX.
The For Every Run Film Festival will recognize the best stories from the world of running, showcasing multiple categories for films as well as best brand campaign, photo, podcast, and written work. Category winners—vetted by a committee of industry leaders—will be celebrated during the film festival.
"The For Every Run Film Festival will highlight the unique perspectives and poignant stories that are so important to the growth of running as an industry, sport, and community," said Christina Henderson, Event Director, The Running Event. "We're thrilled to partner with Pacers Running and bring this special experience to The Running Event not only in 2022, but for years to come."
From November 30 through December 1, attendees will be able to preview and explore festival content at the Pacers Running booth in the #TRE22 exhibit hall. The For Every Run Film Festival will begin at 5:30 PM CT on December 1 and be open to event attendees.
"The For Every Run Film Festival was born from a desire to highlight amazing stories from the world of running," said Kathy Dalby, CEO, Pacers Running. "There are thousands of beautiful and compelling films, photos, writings, and podcasts about running, and the festival will celebrate the storytellers bringing that art to light. We are proud to work with The Running Event to bring this incredibly exciting project to the industry, and we encourage all run creators—regardless of budget, size, or affiliation—to submit their work."
Learn More and Submit
Submissions open today, September 15, and close November 1. Filmmakers, creatives, writers, brands, and others who meet the category criteria are welcome to submit content. Interested participants can access category details, submission requirements, and more by visiting the For Every Run Film Festival website.
Register for #TRE22
Access the festival as well as business opportunities, education, and networking by registering for #TRE22. Click here to register with Early Bird pricing before rates increase on October 1.
—
About The Running Event
Launched in 2006, The Running Event (TRE) is North America's premier run specialty trade show. Each year, it attracts thousands of industry professionals seeking the latest in footwear, apparel, gear, and services. New for 2022, TRE expands with Switchback at The Running Event, a dedicated space within the exhibit hall showcasing top outdoor brands. With numerous opportunities for peer learning, interactive and forward-looking conference programming, and dynamic product demonstration and discovery, The Running Event is the can't-miss trade show for run and outdoor specialty. For more information, visit www.therunningevent.com/.
—
About Pacers Running
Pacers Running started as a neighborhood running store in Old Town Alexandria, VA in 1991. Today, Pacers serves runners at its five DC-area retail stores, signature races, and across the country at runpacers.com. Driven by the mantra, For Every Run, Pacers Running exists to help as many people as possible through running. Known for its innovation and leadership in the Run Specialty channel, Pacers continues to succeed and grow thanks to a commitment to help runners of every walk of life experience the joy and transformation of running.
—
Media Contact:
Genae Salinas
Marketing Manager
Diversified Communications