The Running Event Announces 2023 Keynote Speaker
October 10, 2023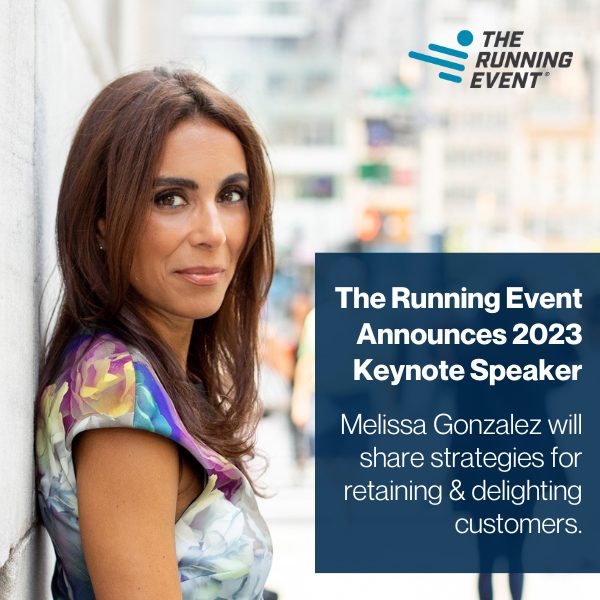 Award-winning innovator and storyteller Melissa Gonzalez will share strategies for retaining and delighting customers during her keynote "Running Through Today's Retail Landscape"
PORTLAND, Maine (October 10, 2023) – The Running Event (TRE), North America's premier specialty retail conference and trade show, today announced Melissa Gonzalez, Principal, MG2 and Founder, Lionesque Group, as the 2023 Keynote Speaker. Gonzalez will give her address, "Running Through Today's Retail Landscape," Tuesday, November 28 at 12:00 PM CT at the Austin Convention Center.
"The retail market is constantly experiencing changes based on consumer behavior, industry challenges, and a myriad of other factors," said Gonzalez. "Despite that, run specialty stores have managed to thrive, especially over the last several years. While the reasons for that success are rooted in customer service and deep product knowledge, it's important to go beyond the initial customer experience and consider how to keep these clientele coming back time and time again."
Pushing boundaries in experiential retail and pioneering the integration of physical environments and digital retail, Gonzalez guides brands such as Kizik, Sorel, and Nordstrom to foster consumer engagement and evolve their offerings. Her keynote address will explore what run and outdoor specialty stores can adapt from large retailers—like Target and Amazon—and other retail industries with a focus on actionable customer retention strategies. Attendees will learn tips and ideas for loyalty programs, examples of successful brand partnerships, and some of the key retail trends to expect in the next five years.
"One of the top reasons retailers come to The Running Event is to discover new ways to improve and strengthen their businesses," said Christina Henderson, Event Director, The Running Event. "Melissa's keynote will deliver action-oriented strategies learned from some of the most successful retailers in the world. We know it's the intimacy and feeling of community that makes run and outdoor specialty stores exceptional—and we also know the importance of improving customers' experiences and growing the bottom line. There are impactful lessons to be learned from larger retailers and other retail industries."
Gonzalez joins more than 50 industry experts and leaders set to speak at TRE 2023. Representing a mix of organizations, brands, and media, these individuals will deliver firsthand expertise and diverse perspectives throughout the event.
Register for TRE 2023
Access Melissa Gonzalez' keynote as well as more than 290 exhibitors, a full educational program, and industry networking by registering for TRE 2023, taking place November 28-30 in Austin, TX. Click here to register.
For media inquiries, please contact Gordon Wright | Gordon@OutsidePR.com
###
About The Running Event
Launched in 2006, The Running Event (TRE) is North America's premier specialty retail conference and trade show. Each year, it attracts thousands of industry professionals seeking the latest in footwear, apparel, gear, and services. In 2022, TRE launched Switchback at The Running Event: an exhibit hall expansion showcasing outdoor brands. With numerous opportunities for peer learning, interactive and forward-looking conference programming, and dynamic product demonstration and discovery, TRE is the can't-miss trade show for run and outdoor specialty. For more information, visit www.therunningevent.com.