The Running Event 2022 Delivers Business and Education to Thousands of Industry Professionals
December 6, 2022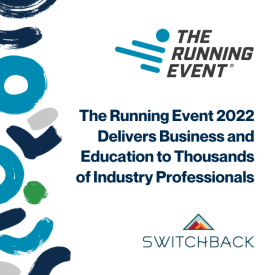 More than 3,200 run and outdoor specialty retailers, brands, and industry professionals traveled to Austin, Texas for the annual event
Portland, ME (December 6, 2022) /ENDURANCE SPORTSWIRE/ – More than 3,200 run and outdoor specialty professionals and brands came together in Austin, Texas November 29 to December 1 for The Running Event (TRE), North America's premier specialty retail conference and trade show. The event drew 279 exhibiting companies and spanned 66,340 square feet of exhibit space—the largest in show history.
"From retailers and event management professionals to exhibiting brands and our partner organizations, everyone at this year's show was buzzing with energy," said Christina Henderson, Event Director, The Running Event. "The excitement around the educational program, the exhibit hall, and the new initiatives for 2022 was evident, and everyone on both sides of the aisle was ecstatic with the value provided at this year's show."
TRE 2022 opened Tuesday, November 29 with a conference program featuring dozens of sessions covering the latest industry trends, best practices, and career development insights. Also on Tuesday was the standing-room-only keynote presentation "Daring to Do Things Differently," presented by Olympian and Saysh Founder Allyson Felix. Tuesday closed with the Opening Night Reception, providing an opportunity for exhibitors and attendees to network and celebrate Day One of TRE 2022.
The largest exhibit hall in TRE history opened its doors Wednesday, November 30 at 9:00 AM to a long line of attendees. Specialty retail professionals explored new products and met with brands while also tuning in to educational sessions at the Training Camp Theater, located on the show floor. New for 2022, Switchback at TRE provided a space for outdoor specialty retailers and brands to connect, learn, and do business while also accessing new opportunities within the run specialty space.
"Rumpl was a first-time vendor at The Running Event, and we were thrilled with the success we had at the show," said Patrick O'Neil, VP of Revenue, Rumpl. "We were able to introduce the Rumpl brand and our category-defining puffy blankets to the run specialty retail community while forming great connections with many like-minded brands."
Thursday, December 1 kicked off with the Indie 5K, where 400 runners and walkers hit the track at Circuit of The Americas—home to the only Formula 1 and MotoGP races in the country—and then explored the onsite post-race expo. At 9:00 AM, the trade show floor opened for the second day, complete with more Training Camp Theater sessions and networking events.
Strava challenge Strides for Progress concluded with more than 4,100 participants logging nearly 73,000 miles of activities, far surpassing the original goal of 35,000 miles. As a result, $30,0000 of donations will be equally distributed to five Texas nonprofits: Austin Angels, Austin Justice Coalition, The Lilith Fund, The Texas Civil Rights Project, and Texas Campaign for the Environment Fund. Donations were made possible by premium partner Body Glide and partners Brooks, HOKA, and OS1st. The Running Event also contributed toward the total donation.
Thursday continued with the inaugural For Every Run Film Festival, presented by Pacers Running, CITIUS MAG, and The Running Event. Emceed by CITIUS MAG's Chris Chavez and Kyle Merber, the festival recognized the best content from the world of running and screened the top films, featured selected photography, and provided space for industry professionals and creators to come together.
Following the film festival, the 2022 Best Running Stores and Industry Awards Reception kicked off with Balega, Brooks, On, and Saucony each presenting awards to individual retailers and stores. The 2022 Best Running Stores were then recognized, unveiling the Top Four Best Running Stores: Fleet Feet Louisville, Ridgefield Running Company, Palmetto Running Company, and Shu's Idaho Running Company. Ridgefield Running Company was named 2022 Store of the Year.
Closing out TRE 2022 on Friday, December 2 was the show's first-ever Trail Cleanup. Retailers, brands, and TRE event management headed out to the Ann and Roy Butler Hike and Bike Trail to pick up trash and give back to the beloved Austin trail.
More coverage of the 2022 event will be available at therunningevent.com and on social media channels. The Running Event and Switchback at TRE 2023 is scheduled for November 28-30 at the Austin Convention Center in Austin, TX. Stay updated about The Running Event at therunningevent.com/stay-informed.
About The Running Event
Launched in 2006, The Running Event (TRE) is North America's premier run specialty trade show. Each year, it attracts thousands of industry professionals seeking the latest in footwear, apparel, gear, and services. New for 2022, TRE expands with Switchback at The Running Event, a dedicated space within the exhibit hall showcasing top outdoor brands. With numerous opportunities for peer learning, interactive and forward-looking conference programming, and dynamic product demonstration and discovery, The Running Event is the can't-miss trade show for run and outdoor specialty. For more information, visit www.therunningevent.com.
About Diversified Communications
Diversified Communications is a leading international media company with a portfolio of face-to-face exhibitions and conferences, online communities, and digital and print publications. As producers of these market-leading products, Diversified Communications connects, educates, and strengthens business communities in over 15 industries including: renewable energy, healthcare, natural and organic, food and beverage, and technology. Established in 1949 and headquartered in Portland, Maine, USA, with divisions and offices around the world, Diversified Communications remains a privately held, third-generation, family-owned business. For more information, visit: https://www.divcom.com.
###
Media Contact:
Genae Salinas
Marketing Manager
Diversified Communications
Exhibitor Contact:
Christina Henderson
Event Director
Diversified Communications