The RunnerBox "Raises the Brrrr" with its Winter Edition and Increases Capacity for 500 New Subscribers
December 14, 2022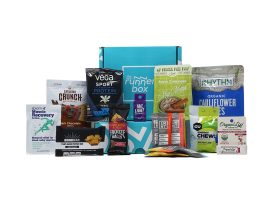 /ENDURANCE SPORTSWIRE/ – The RunnerBox, a leader in the endurance gift and subscription industry, has debuted their most highly sought after box of the year: The Winter Edition. After reaching maximum subscriber limits upon its release in the past four years, the subscription service has announced they have increased capacity to allow for an additional 500 subscribers to come on board during the holiday rush. Current subscribers as well as the first 500 people to claim the final spots will receive The Winter Edition during the months of December and January, while all other customers will be put on a waiting list.
"We pride ourselves in curating the gift that keeps giving all year long and are humbled and honored to receive such a positive response that we have needed to increase capacity to make sure that more athletes can receive the hand-delivered joy", said The RunnerBox and RiderBox COO, Courteney Lowe. "Beyond that, we're particularly thrilled to be able to raise subscriber limits in conjunction with the release of the Winter Edition so more athletes can keep their spirits high and outlooks bright during a time of year when it's easy for workouts and self-control to take a backseat."
Starting at just $29, this seasonally themed box is loaded with a mix of items valued at over $60 that will keep athletes fueled, warm, and motivated. From safety lights to winter-inspired nutrition and innovative recovery lotion, the coveted release will ship out to current subscribers, with a limited number available to those who sign up before the January 30th deadline.
See below for the list of featured products in the newly released Winter Edition:
Knuckle Lights Taillight Safety Blinker
Don't get left in the dark on your winter runs! This small LED unit has 2 modes and connects magnetically so it can be fastened nearly anywhere. MSRP: $12.00
Bonk Breaker Salted Caramel Protein Bar
You've been struck by a smooth caramel. This sinfully delicious, real food bar contains 13 grams of muscle building protein plus carbs to replace glycogen. MSRP: $2.75
30g of protein is just the beginning of this protein powder. It also delivers 5g BCAA's, probiotics, and even has a (tart) cherry on top. MSRP: $3.50
These energy dense chews let you GU for it! They contain carbs that maximize absorption, increase utilization, and diminish stomach distress. MSRP: $2.50
All the yum of your childhood favorite sandwich is infroozed into these coconut covered, PB&J filled, incredi-ball energy balls. MSRP: $1.49
Winter can be grim. Your snacks shouldn't be. These heat crisped cauli-power bites are packed with vital nutrients and flavor that will keep you crunchin' to the beat. MSRP: $4.49
Epsom-It Muscle Recovery Lotion
TFW your muscles need an Epsom salt soak but you realize ain't nobody got time for that. This lotion provides 30X the benefits of a soak without the time drain and inconvenience. MSRP: $2.50
Catalina Dark Chocolate Cereal
This cereal is cerealsly awesome. Loaded with plant-based protein and fiber and containing zero added sugars, it's the perfect way to start (or finish) the day. MSRP: $1.99
Kiss winter, chapped lips goodbye. This organic balm is infused with Sea Buckthorn making it ultra-moisturizing and – bonus – oval-shaped making it ultra-easy to apply. MSRP: $4.49
Sweet Logic Apple Cinnamon Mug Cake
This sweet treat lets you have your cake and eat it, too. Ready in minutes, high in protein and low in sugar, this apple-cinnamon wonder is the perfect winter indulgence. MSRP: $3.60
Don't be salty…unless you're an electrolyte mix. This sachet skips the sugar and fillers while loading you up with electrolytes, particularly sodium which is crucial for endurance athletes. MSRP: $14.00
To join The RunnerBox or learn more, visit www.therunnerbox.com.
About The RunnerBox
The RunnerBox is the longest-standing subscription box in the endurance space. Offering boxes for runners and cyclists, it is a fun and easy way for any athletes to receive a regular supply of products to enhance their active lifestyles. Each box is filled with hand-picked products tested and approved by a team of professional athletes and nutrition experts. The RunnerBox and RiderBox offer subscriptions which are shipped every second month in addition to limited edition boxes and one time gift boxes. To learn more about The RunnerBox visit www.therunnerbox.com