The RunnerBox Announces Partnership with the Parkinson's Foundation
February 22, 2022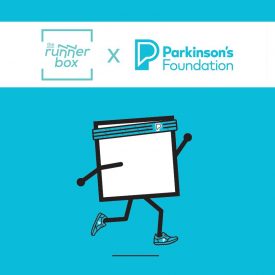 /ENDURANCE SPORTSWIRE/ – The RunnerBox and the Parkinson's Foundation have announced a partnership aiming to provide custom boxes for those running as Parkinson's Champions. Parkinson's Champions is the endurance, do-it-yourself fundraising event program that gives individuals nationwide a chance to raise funds and awareness for Parkinson's disease (PD). Together, Parkinson's Champions have hosted more than 150 annual community fundraisers across the country, run more than 15,000 miles and raised nearly $12 million to help make lives better for people living with PD.
"We could not be more thrilled to partner with the Parkinson's Foundation to provide a burst of motivation in the mail to these amazing Parkinson's Champions who are doing their part to help make life better for people with Parkinson's," said The RunnerBox COO Courteney Lowe.
The RunnerBox will create custom boxes filled with items to fuel Parkinson's Champions as they train to complete iconic marathons like the Chicago Marathon, The New York City Marathon and the Philadelphia Marathon. Parkinson's Champions will receive a box to welcome them to the program and help participants discover food and tools to support their training journey. Boxes will include participants' singlets and items specifically geared towards race day.
"Every year, Parkinson's Champions take the lead in planning their own events or participate in endurance races in support of the Foundation's mission," said National Director of Fundraising Events Francesca Villa. "Through this partnership, we are pleased to support participants' journey by providing increased access to endurance nutrition and gear."
In addition to providing boxes, Parkinson's Champions will receive exclusive deals on RunnerBox subscriptions,ensuring they can fuel their endeavors all year long.
To learn more about the program or to become a Parkinson's Champion yourself, visit Parkinson.org/Champions.
About The RunnerBox and RiderBox
The RunnerBox is the longest-standing subscription box in the endurance space. Offering boxes for runners and cyclists, it is a fun and easy way for any athletes to receive a regular supply of products to enhance their active lifestyles. Each box is filled with hand-picked products tested and approved by a team of professional athletes and nutrition experts. The RunnerBox and RiderBox offer subscriptions which are shipped every second month in addition to limited edition boxes and one time gift boxes. To learn more about The RunnerBox visit www.therunnerbox.com
About the Parkinson's Foundation
The Parkinson's Foundation makes life better for people with Parkinson's disease by improving care and advancing research toward a cure. In everything we do, we build on the energy, experience and passion of our global Parkinson's community. Since 1957, the Parkinson's Foundation has invested more than $400 million in Parkinson's research and clinical care. Connect with us on Parkinson.org, Facebook, Twitter, Instagram or call (800) 4PD-INFO (473-4636).
About Parkinson's Disease
Affecting an estimated one million Americans and 10 million worldwide, Parkinson's disease is the second-most common neurodegenerative disease after Alzheimer's and is the 14th-leading cause of death in the United States. It is associated with a progressive loss of motor control (e.g., shaking or tremor at rest and lack of facial expression), as well as non-motor symptoms (e.g., depression and anxiety). There is no cure for Parkinson's and 60,000 new cases are diagnosed each year in the U.S. alone.