The RunnerBox and The RiderBox Keep it Fresh with Their Latest Editions
August 3, 2022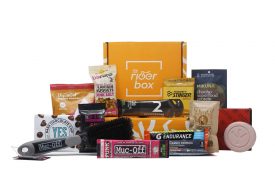 August 3, 2022 /ENDURANCE SPORTSWIRE/ – The RunnerBox and The RiderBox unveiled their latest editions which showcases featured picks to help subscribers stay fresh while turning up the heat on their late-summer workouts and races. Consistently named the top subscription box for athletes, The RunnerBox and The RiderBox deliver bi-monthly boxes to subscribers that highlight the top nutrition and gear of the season.
Starting at just $28, their newest edition boasts nearly $60 of value. With items like Dirty Bird Relax Soap, Stinkbug deodorant, Muc-Off cleaning supplies, and After Bar – the highly acclaimed recovery bar – subscribers will have everything they need to stay fresh when the heat turns up. Boxes will be delivered directly to current subscribers as well as anyone who signs up during the months of August or September.
"Staying fresh and refreshed as the season wears on and temperatures soar can be exceptionally challenging," said The RunnerBox and RiderBox CEO, Laura Jorgensen. "We couldn't be more thrilled with the cohort of brands we selected for this box which will help subscribers do just that. Each of the partners featured has put painstaking detail and passion into their product and I'm confident that subscribers are going to be absolutely delighted with each item they receive in this edition."
Below are the products included in the box which were hand-selected by The RunnerBox and RiderBox's team of professional athletes as the best products to help subscribers stay fresh and motivated this season. To order this edition, visit therunnerbox.com
For All Subscribers:
Sometimes you trick your kids to eat vitamins with gummies and sometimes the RunnerBox tricks you to eat enough protein with them. Is that so wrong?
MSRP: $4.00
Is this bar clean (Yes!) Is it plant based (Yes!) Is it delicious (Yes!) Loaded with high quality nuts, fruit, seeds, and spices, this bar gives you every reason to say YES!
MSRP: $2.99
Math is hard, but this thin viscosity gel is part of a simple fueling system which allows you to consume precise 30g increments of fast absorbing carbs.
and full. MSRP: $3.25
Mikuna Superfood Protein Powder
Go cho-cho for chocho powder. This functional, good-for-the-planet superfood is packed with protein, fiber, vitamins, minerals, and amino acids.
caffeinated whey isolate coming their way. MSRP: $4.99
Honey Stinger Organic Honey Waffle
This tried but true favorite is hard to beat when it comes to taste and performance in intense, hot conditions. Bottom line: You'll like them a waffle lot.
MSRP: $1.60
After the run, it's the after party bar. This first-ever, vegan, non-hemp derived CBD bar delivers an anti-inflammatory, muscle soothing blend that will lift your post-workout game
MSRP: $4.29
Dirty Bird Soap
Calm your mind and body after a hard day's work(out) with this Relax Soap. Made with a blend of lavender, chamomile and Ylang Ylang, it's the perfect way to wind down.
MSRP: $6.00
For Riders Only:
Two are better than one, especially when it comes to this two-prong brush that is ideal for reaching dirt on spokes, discs, shocks, cranks, linkages, and pedals.
MSRP: $10.49
This tiny sachet is kind of like a grow-in-water toy for cyclists. This world's first plastic free bike cleaner includes powder that will expand to create 1 liter of bike cleaning awesomeness.
MSRP: $9.99
Made by the true OG's in the endurance game, this multi-carb power blend is formulated specifically with the long-distance athlete in mind.
MSRP: $1.60
Say goodbye to that TFW you're motivated enough to ride in the dark, but you go to turn on your light and its dead. (Womp. Womp.) Subscribers will get 40% off this solar powered light set
MSRP: $54.95
Micheles's Salted Maple Pecan Granola
Sweet, spicy, and handmade (oh my!) This elevated granola is made with top-notch organic ingredients for a better-for-you way to fuel your day.
MSRP: $1.45
No nugs, no glory! Small but mighty, these organic, sustainably sourced plantain nuggets pack a powerful, people pleasing, perfectly crunchy punch with only three simple ingredients.
MSRP: $2.00
For Runners Only:
Safety pins. Ha! What an oxymoron. Ditch the finger daggers and snap your bib into place with these reusable Bibboards.
MSRP: $12.95
It's never a dull mouthful with this lentil snack that delivers a chip-ton of flavor.
MSRP: $1.83
Calling all performance optimizers! Made with a blend of electrolytes and carbs, this mix uses isomaltulose as its primary carb source, keeping the GI index down but your hydration levels up.
MSRP: $1.50
Life doesn't stink with this all-natural deodorant. Only 1-2 swipes will keep you smelling fresh (and stop you from losing friends on the group run).
MSRP: $8.99
Those looking to receive everything above for as little as $28 can do so at therunnerbox.com while supplies last.
About The RunnerBox and The RiderBox
The RunnerBox is the longest-standing subscription box in the endurance space. Offering boxes for runners and cyclists, it is a fun and easy way for any athletes to receive a regular supply of products to enhance their active lifestyles. Each box is filled with hand-picked products tested and approved by a team of professional athletes and nutrition experts. The RunnerBox and RiderBox offer subscriptions which are shipped every second month in addition to limited edition boxes and one-time gift boxes. To learn more about The RunnerBox visit www.therunnerbox.com