The RunnerBox and The RiderBox Keep Athletes Motivated with Their Latest Release
February 24, 2023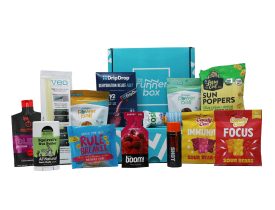 /ENDURANCE SPORTSWIRE/ – On February 1st, The RunnerBox and The RiderBox debuted their February-March 'conquer winter' box. Shipping out every other month, this athlete-run subscription company has selected products that will motivate subscribers to push through these final winter days, defrost, and prepare for the upcoming spring race season.
"Winter is long and can feel even longer," said Chief Operating Officer, Courteney Lowe. "Short days, cold mornings, and indoor workouts get old, as does the motivation to keep training, so we've put together a box full of mouth-watering fuel, immune-boosting gummies, and recovery items subscribers will actually be excited about. It is sure to put a spring in our athletes' steps as they continue building towards the upcoming race season and warmer days."
Starting as low as $29 and boasting a retail value of over $60, the February/March edition will go out to all current subscribers as well as those who sign-up before the March 30th deadline. Here's a sneak peak of this edition's featured products:
For All Athletes:
BOOM! This gel delivers 26g of carbs without all the sugar. Flavored with real fruit, it's 9:1 complex carb to simple sugar ratio provides a steady release of energy that's gentle on the stomach.
We're willing Spring's bright sun to come sooner with these perfectly crispy casava puffs that are deliciously tumbled in avocado oil and packed with protein from watermelon and pumpkin seed.
You've just won the Protein Power Ball! These bites solve modern-day snack problems in the form of delicious, convenient protein balls that were created in a kitchen, not a lab.
This drink mix is good to the last (drip) drop and tackles dehydration faster than a last-minute pre-race sprint to the porta-potty.
You'll go nuts for these crunchy, clean bites. Made with only a handful of organic ingredients, they're packed with plant protein and simply delicious.
We usually wouldn't recommend pre-workout shots, but this proprietary spice blend calms hyperactive nerves that pound fatiguing muscles during exercise and lead to next day soreness.
Train hard. Sleep easy. This concentrate is loaded with 40 tart cherries plus melatonin and magnesium which reduces inflammation, promotes deeper sleep, and supports immunity.
Rule Breaker Birthday Cake Blondie
It might not be your birthday, but breaking the rules calls for a celebration when it comes to these ooey-gooey, chickpea-based blondies that are loaded with protein and fiber.
Say goodbye to the dreaded sweat-squint! This ultralight adhesive strip channels an unlimited amount of sweat (and rain) away from your eyes.
For RunnerBox Subscribers Only
CandyCan delivers what other candy can't. Made with functional ingredients like L-Theanine for focus and elderberry for sleep, these low sugar gummies come with sweet benefits.
Squirrel's Nut Butter Anti-Chafe Stick
This all-natural salve is the perfect way to butter your nuts – or any other area of skin prone to chafing and blisters.
For RiderBox Subscribers Only
These gummies support immunity with zinc, 100mg of high-quality black elderberry extract and 100% of the recommended daily value of Vitamin C.
Heali infused Kinesiology Tape
Peel it and heal it! This first-of-its-kind kinesiology tape is infused with menthol and magnesium to simultaneously provide relief and support to trouble areas.
This non-greasy lubricant soothes and softens skin prone to the chafing that comes with long days in the saddle (or even short ones on the trainer).
To learn more or get your hands on the latest edition, http://www.therunnerbox.com.
About The RunnerBox and RiderBox
The RunnerBox is the longest-standing subscription box in the endurance space. Offering boxes for runners and cyclists, it is a fun and easy way for any athletes to receive a regular supply of products to enhance their active lifestyles. Each box is filled with hand-picked products tested and approved by a team of professional athletes and nutrition experts. The RunnerBox and RiderBox offer subscriptions which are shipped every second month in addition to limited edition boxes and one time gift boxes. To learn more about The RunnerBox visit www.therunnerbox.com