The RunnerBox and The RiderBox Help Athletes Finish the Season Strong with Their Latest Edition
September 12, 2023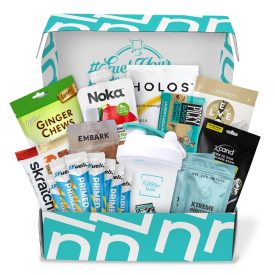 /ENDURANCE SPORTSWIRE/ – The RunnerBox and The RiderBox unveiled their latest editions which showcases featured picks to help subscribers finish strong as they take on their late-summer workouts and races. Consistently named the top subscription box for athletes, The RunnerBox and The RiderBox deliver bi-monthly boxes to subscribers that highlight the top nutrition and gear of the season.
Starting at just $32, their newest edition boasts nearly $60 of value. With items like Gatorade's new Evolve protein, a custom protein shaker, and Noka's superfood smoothie – subscribers will be armed with the tools to stay strong and recovered as the summer winds down. Boxes will be delivered directly to current subscribers as well as anyone who signs up before the September 30th deadline.
"Staying healthy, hydrated, and recovered as the season wears on and temperatures stay high can be exceptionally challenging," said The RunnerBox and RiderBox CEO, Laura Jorgensen. "We couldn't be more thrilled with the cohort of brands we selected for this box which will help subscribers do just that. Each of the partners featured has put painstaking detail and passion into their product and I'm confident that subscribers are going to be absolutely delighted with each item they receive in this edition."
Below are the products included in the box which were hand-selected by The RunnerBox and RiderBox's team of athletes as the best products to help subscribers stay fresh and motivated this season. To order this edition, visit therunnerbox.com
For All Our Athletes
MSRP: $9.00
SFuels PRIMED is here to save the day, by boosting fat oxidation and keeping your glycogen levels intact. It's the ultimate fuel to slice through your high-intensity training sessions.
Skratch Labs Crispy Rice Cakes
MSRP $2.45
This marshmallow masterpiece is for all athletes who are looking to fuel with something more fun and delicious.
MSRP $2.79
We're very picky about what we put into our bodies. These performance bars are made from real food and can power through the toughest workout, or biggest snack attack.
MSRP $4.99
Need a royal remedy for those queasy moments? Look no further than Prince of Peace Ginger Chews! These chewy wonders will gingerly tackle any tummy troubles (looking at you, GI distress)
MSRP $2.99
Squeeze the day! Noka's Superfood Smoothie Packs have all the nourishment you need so we squeezed them into the August/September box allowing you to turn any ordinary day into a refreshing adventure.
MSRP $4.42
Say goodbye to boring breakfasts. HOLOS Organic Overnight Muesli is the fuel for the foodie rebels, the whole-hearted breakfast enthusiasts or… if you're like us, the breakfast of "I don't got time for that".
Xtreme Element Cool Blue Muscle Gel
MSRP $2.00
Xtreme Element Cool Blue Muscle Gel is the coolest rub in town! Because you go to the xtreme every day, whether you're hitting the gym or just lounging at home, this gel will have you feeling chill in no time.
MSRP $7.49
We're real sappy about good nutrition and good energy. Embark Maple Gel comes from Organic Maple Syrup straight from a farm and provides energy and electrolytes with 320 calories and 80g carbs. You can just sip straight from the pouch for quick energy and a caffeine boost.
MSRP $1.80
Pass the Peas! Packed with 20g of plant-based pea protein, this ready-to-drink protein is a clean an easy way to recover after tough workouts.
EXCLUSIVE Runner/Rider Box Protein Shaker
MSRP $10
We like our protein shaken, not stirred. These Protein Shaker bottles are a great vessel for your Evolve protein, Holos oats, or any electrolyte sachet that needs a good mix. Go ahead, shake in style.
For Our Runners Only
MSRP $11.99
Knot happy with your shoe laces? Let us introduce you to Xpand Laces. They have developed a flat lacing system meaning you'll never have to tie your shoes again!
For Our Riders Only
AMP PR Lotion
MSRP $20.00
Get AMPed up with PR Lotion: the secret weapon for turbo-charging your muscles! Its sodium bicarbonate infusion helps reduce the pain in your legs so you can push harder during intense activities like climbing, sprinting, time trials, or anytime the pace gets into the red zone.
Those looking to receive everything above for as little as $32 can do so at therunnerbox.com while supplies last.
About The RunnerBox and The RiderBox
The RunnerBox is the longest-standing subscription box in the endurance space. Offering boxes for runners and cyclists, it is a fun and easy way for any athletes to receive a regular supply of products to enhance their active lifestyles. Each box is filled with hand-picked products tested and approved by a team of professional athletes and nutrition experts. The RunnerBox and RiderBox offer subscriptions which are shipped every second month in addition to limited edition boxes and one-time gift boxes. To learn more about The RunnerBox visit www.therunnerbox.com