The RunnerBox and The RiderBox Encourage Athletes to "Smash Goals, Not Pumpkins" with their Fall Edition
October 20, 2021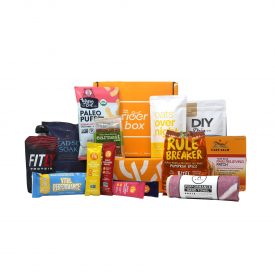 /ENDURANCE SPORTSWIRE/ – Fall is finally here and rather than sip on a pumpkin spice latte, The RunnerBox and The RiderBox are encouraging athletes to celebrate the season with its Fall Edition endurance subscription box. The brands' latest creations are bursting with seasonally flavored nutrition that will satisfy fall cravings without destroying waistlines as well as accessories to enhance any athlete's fall training regimen.
"Fall is arguably the best season for endurance sports," said The RunnerBox CEO Laura Jorgensen. "The weather is amazing, races are aplenty and motivation is high. But, while the training may be great, all the sugary treats floating around aren't always the best. We wanted the Fall Edition to give our athletes opportunities to really indulge in the season, but do it in a healthy way that enhances their active lifestyles."
The new release will ship out to current subscribers, with a limited number available to those who sign up before the November 30th deadline. Boxes start at $28 and feature the following products:
Fitly Protein Fruit Smoothie combines 9 essential amino acids and 10g of protein with locally farmed fruit to create an on-the-go protein smoothie that is likely to give subscribers' blenders some serious jealousy issues.
Rule Breaker Pumpkin Spice Bites -These pumpkin pie bites are breaking ALL the rules. Made primarily with chickpeas, these mouthwatering bites are packed with protein and fiber that will leave subscribers' waistlines happy and fall-induced pumpkin spice cravings satisfied. MSRP: $4.99
Yareli Dead Sea Soak – Move over, Epsom. Yareli's magnesium has been proven to have better transdermal absorption than our old friend Epsom and is made with flakes harvested straight from the Dead Sea. Subscribers will get a full bag of soak so they can skip the flight to the Dead Sea but still reap its recovery benefits. MSRP: $5.99
Oats Overnight Maple Pancakes – This breakfast favorite packs the deliciousness of Maple Pancakes into a zero morning-prep package.  Better yet, it has the perfect ratio of protein and complex carbs that will help subscribers tackle a tough day or tough workout. MSRP $3.99
Lesser Evil Paleo Puffs these slightly sweet, nutrient dense puffs are made with all organic cassava, coconut flour, and sweet potato then tumbled in organic coconut oil making them unstoppably poppable. MSRP: $1.00
DIY Drip Coffee Brain Fuel This apoptogenic coffee blend boosts immunity and its innovative on-the-go brew pouch will allow subscribers to get a caffeine level up anytime, anywhere there is hot water. MSRP: $7.80
Zyn Daily Wellness Drink Mix – Made with a mix of curcumin, zinc, Vitamin C + D, and electrolytes, this drink mix is an endurance athlete's dream come true tackling recovery, gut health, hydration, and immunity all in one pouch. Subscribers will get to sample all four amazing flavors of this wonder drink. MSRP: $8.00
Vital Performance Protein Bar – This bar is here to help subscribers unwrap their performance. Made with collagen peptides – an ingredient that supports muscles, tendons, bones, and joints – it's wrapped together in a mouth-watering, candy-like bar subscribers will actually feel good about eating. MSRP: $2.99 
RiderBox Subscribers Only
Arete Quick Dry Performance Towel – If our subscribers are going to have to ride a trainer this fall, they're at least going to be stylish. This highly absorbent and insanely soft performance towel is made of odor control fabric and produced with sustainable inks that will keep them dry AND fly. MSRP: $24.00
Tiger Balm Pain Relieving Patch – 5 Pack – Subscribers will get a pain relief + convenience 1-2 combo with Tiger Balm's pain relief patches. These clean, simple patches can be easily applied and provide strong pain relief for hours without making the entire room smell like menthol. MSRP: $4.98
Earnest Eats Apple Ginger Baked Bar – Nothing screams fall like mama's warm apple pie…or Earnest Eats Apple Ginger bar. This bar combines apples, walnuts and warm spices mixed up in a soft baked almond butter bar that subscribers will apple-solutely love. MSRP: 1.99
RunnerBox Subscribers Only
Vera Wella Runners Support Recovery – Runners may have 99 problems, but Vera Wella makes sure recovery isn't one. This incredible recovery supplement leverages the all-natural power of amino acids and tart cherries that will give our subscribers exactly what their bodies need to recover. MSRP: $26.99
Thera-Wishbone Massage Tool – Our subscribers are going to wish they knew about wishbones sooner. This easy-to-use massage tool will allow them to use the leverage of their bodies rather than the joints their hands to really dig into trouble spots and effectively manage aches and pains. MSRP: $25.00 
Packed with nearly $90 of nutrition and gear, this box can be purchased for as little as $28 at www.therunnerbox.com. To learn more about the brand or to receive the latest news and exclusive discounts on featured brands follow The RunnerBox on Instagram, Twitter or Facebook.
About The RunnerBox and The RiderBox
The RunnerBox is the longest-standing subscription box in the endurance space. Offering boxes for runners and cyclists, it is a fun and easy way for any athletes to receive a regular supply of products to enhance their active lifestyles. Each box is filled with hand-picked products tested and approved by a team of professional athletes and nutrition experts. The RunnerBox and RiderBox offer subscriptions which are shipped every second month in addition to limited edition boxes and one-time gift boxes. To learn more about The RunnerBox visit www.therunnerbox.com