The RunnerBox and The RiderBox Debut Latest Edition Which Encourages Subscribers to Fall in Love with the Season
October 11, 2022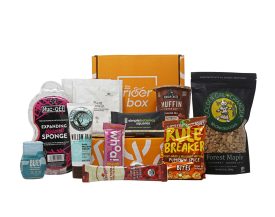 /ENDURANCE SPORTSWIRE/ Fall is here and rather than eat pie and sip sweet lattes, The RunnerBox and The RiderBox are encouraging athletes to celebrate the season with its Fall Edition endurance subscription box. The brands' latest creations are bursting with seasonally flavored nutrition that will satisfy fall cravings without destroying waistlines as well as accessories to enhance any athlete's October and November training regimen.
"Fall is considered by many as the best season for endurance sports," said The RunnerBox COO Courteney Lowe. "Temperatures are optimal, races are aplenty, and fitness is high. But, while the training may be great, all the sugary treats floating around aren't always the best. We wanted the Fall Edition to give our athletes opportunities to really indulge in the season, but do it in a healthy way that enhances their active lifestyles."
The new release will ship out to current subscribers, with a limited number available to those who sign up before the November 30th deadline. Boxes start at $28 and feature the following products:
Kodiak Cakes Cinnamon Muffin Cup
Pastries ain't got muffin on this nutritious, whole-grain, protein-packed cup. Just add water and stir and you're only a minute away from its cinnamon-y goodness. MSRP: $2.25
Nature's Willow Pain Relieving Cream
Subscribers willow us a high five after they tap into the natural pain-relieving power of this fast-acting cream.  Made from White Willow bark, it works like topical aspirin for muscle aches and pains and arthritis. MSRP: $11.99
Rule Breaker Pumpkin Spice Bites
Spice, spice baby. Back by popular demand, these pumpkin spice bites scream fall while breaking all the rules. They're made with real pumpkin, packed with protein and fiber and deliciously guilt-free. MSRP: $3.99
Not to be sappy, but we are in love with this pure maple syrup fuel. It's water soluble and has the naturally occurring macronutrients for instant energy. MSRP: $2.20
Squeeze in what life takes out. Containing pure electrolytes and trace minerals, just a pinch of these hydration drops will transform any beverage into a super-drink. MSRP: $12.99
Keep it simple with this bar that delivers clean energy through its high quality, unprocessed ingredients. MSRP: $2.00
Olive the ingredients in this pea protein make for one of the most innovative blends we've seen. Most notably Extra Virgin Olive Oil and olive antioxidants to support muscle repair and keep you fuller longer. MSRP: $5.00
Whoa! We didn't see this bar coming.  Scrumptious brownie batter meets plant-based ingredients in this good-for-you bar that lets you snack happy. MSRP: $2.49
RiderBox Subscribers Only
The best things come in small packages. Vacuum packed to reduce plastic packaging, this durable sponge leaps into action when soaked in water.  MSRP: $4.99
Golden Girl Forest Maple Granola
Not even pancakes stack up to this fall-inspired maple granola. Made with premium ingredients, its flavor is drawn out through a toasting process, not through added sugar and salt. MSRP: $8.99
RunnerBox Subscribers Only
Runners: They might not be flexible, so hallelujah for this bottle that can be. This foldable, freezable, reusable, attachable bottle is made specifically with the active lifestyle in mind. MSRP: $8.99
You scream, I scream, all runners scream of knee pain. This tech-enhanced adhesive knee patch uses diamagnetic micro-array technology to allow the migration of glucosamine and chondroitin sulphate. Translation: Less joint inflammation. MSRP: $5.00
Packed with over $60 of nutrition and gear, this box can be purchased for as little as $28 at www.therunnerbox.com. To learn more about the brand or to receive the latest news and exclusive discounts on featured brands follow The RunnerBox on Instagram, Twitter or Facebook.
About The RunnerBox and The RiderBox
The RunnerBox is the longest-standing subscription box in the endurance space. Offering boxes for runners and cyclists, it is a fun and easy way for any athletes to receive a regular supply of products to enhance their active lifestyles. Each box is filled with hand-picked products tested and approved by a team of professional athletes and nutrition experts. The RunnerBox and RiderBox offer subscriptions which are shipped every second month in addition to limited edition boxes and one-time gift boxes. To learn more about The RunnerBox visit www.therunnerbox.com