The RunnerBox and The RiderBox Aim to Beat the Heat with their Latest Summer Edition
June 3, 2022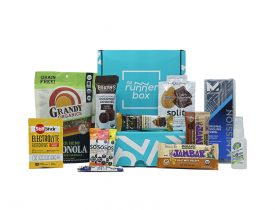 June 1, 2022 /ENDURANCE SPORTSWIRE/ – The RunnerBox and The RiderBox unveiled their latest editions which showcase featured products to help subscribers stay cool while they tackle the heat this summer. Leaders in the subscription industry, The RunnerBox and The RiderBox, deliver bi-monthly boxes to subscribers that highlight the top products of the season.
With summer bringing hot temperatures and multiple racing opportunities, the latest edition is loaded with products to keep subscribers cool, hydrated, fueled, and sun smart during these hot days. Starting at just $28, the summer Edition will deliver over $65 worth of season-specific products to current subscribers as well as anyone who signs up during the months of June or July.
"Summer can be a very challenging time of year to train," said The RunnerBox and RiderBox COO Courteney Lowe. "Instances of cramping and heat exhaustion are high and if you don't prepare and have the proper tools for training, it can be very dangerous. This edition was curated specifically to keep our subscribers safe and cool so their bodies can perform at their best and recover fully."
Below are the products included in the box which were hand-selected by The RunnerBox and RiderBox's team of professional athletes to power subscribers through this new season.
For All Subscribers:
Split Nutrition Almond & Dark Choc 
It's time to Split! This side-by-side duo of almond butter and dark chocolate has a great balance of protein, fats, and deliciousness for a real food way to fuel your day.
MSRP: $2.49
If a sweet tart and an electrolyte capsule had a baby, it'd be a SaltStick FastChew. These tart, chewable tablets prevent dehydration by providing electrolytes similar to what is found in your sweat.
MSRP: $2.99
Mission Cooling Original Towel
Mission "Cool Down" Accepted! This durable microfiber towel cools instantly to 30 degrees below average body temp in 30 seconds and stays cool for up to 2 hours.
MSRP: $14.99
Good things come in threes; especially these delectably crave-able, soft & chewy, gluten free coconut cookies made with a short list of premium, organic ingredients..
MSRP: $2.00
Workout Hotel Fit Club month pass
You just landed a month of cross-training! (Whoo!) This digital gym is your virtual getaway for live and on-demand workouts.
MSRP: $9.99 (per month)
Made from minimally processed plant-based ingredients, superfoods, and antioxidants, this Glo bar will leave you feeling radiant from the inside out.
MSRP: $2.79
Jam on with these bars created by the cofounder of PowerBar. Made with real food including ancient grains and innovative proteins, this bar has the nostalgic texture of the original energy bar, but with a major ingredient upgrade
MSRP: $3.25 
For Riders Only:
Picky Bars Oatmeal Pop-up Cups
Pop goes the oatmeal! This pop-up cup of nutrient dense oatmeal has 9g of plant protein from nuts and chia so it will fill you up without weighing you down.
MSRP: $3.49
Calling all performance optimizers: This drink mix optimizes performance during long activities with a mix of electrolytes and easy-to-digest carbs plus an added boost of beet nitrates for cardiovascular function.
MSRP: $3.00
Low iron can mean low oxygen can mean I CAN'T GO ANY HARDER. (Not good.) Enter Profferin®, a heme iron polypeptide that absorbs 10-24x better than traditional iron.
MSRP: $19.99
Sun-kissed skin might be nice, but lips, not so much. Protect and soothe your pucker-uppers with this 30 SPF balm made with aloe, cocoa butter, coconut oil and a touch of vanilla. How we use it: Applied liberally before any outdoor adventure– whether riding or otherwise – to prevent damage from UVA/UVB rays.
MSRP: $3.49
For Runners Only:
S-O-S, please someone help me. We're not sure if Rihanna was dehydrated when she wrote that, but probably yes. This next generation, low sugar mix contains the right balance of vitamins, minerals, & electrolytes to support training performance and daily health.
MSRP: $8.99
Kinesys SPF 30 Sunscreen Spray
This spray is like sunscreen's non-dramatic cousin. It packs 170+ no-questions-asked sprays of quick-drying, non-greasy protection that has been recognized as a favorite by Runner's World
MSRP: $8.99
Grandy Oats Coconola – Original Grain Free Granola
This glorious union of coconut and granola is grain-free, gluten-free, GMO-free, paleo, keto certified and all organic. (And made in small batches in a disused schoolhouse turned solar powered bakery #toocool)
MSRP: $8.99
About The RunnerBox and The RiderBox
The RunnerBox is the longest-standing subscription box in the endurance space. Offering boxes for runners and cyclists, it is a fun and easy way for any athletes to receive a regular supply of products to enhance their active lifestyles. Each box is filled with hand-picked products tested and approved by a team of professional athletes and nutrition experts. The RunnerBox and RiderBox offer subscriptions which are shipped every second month in addition to limited edition boxes and one-time gift boxes. To learn more about The RunnerBox visit www.therunnerbox.com