The RunnerBox and RiderBox Unveil Highly Anticipated Limited Edition Holiday Boxes Which Goes the Extra Mile to Outpace Inflation
November 14, 2022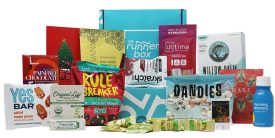 November 14, 2022/ENDURANCE SPORTSWIRE/ – The Runner and The RiderBox, leaders in the endurance sport gift industry, have released a Limited-Edition Holiday Box which will be available for sale on a first-come, first-served basis. This limited run box is an annual favorite and has sold out every year it has been in production.
With inflation soaring and high prices at the forefront of customers' minds, The RunnerBox has doubled down on their commitment to deliver extreme value by increasing the worth of the box while keeping the price the same. In an exclusive two-day offering available only to past purchasers, 25% of stock went flying off the shelves. Opening to the general public today, the limited-edition retails for $40 and is packed with over $80 of holiday cheer for either a runner or a cyclist.
"In this economy, options for affordable gifts have become incredibly limited," says The RunnerBox and RiderBox CEO, Laura Jorgensen. "Combine that with picky athletes and suddenly shopping becomes hard, if not impossible. We wanted consumers to have an option that is fun yet affordable and, thanks to our wonderful partners, we've done just that. This box is loaded with top products that will allow even the pickiest runner or cyclist to light up with holiday cheer."
Each product in the limited edition has been hand-selected by a team of professional athletes as a top pick to help athletes survive holiday and training stress while indulging in seasonally inspired flavors in a healthier way. The 2022 edition includes products like Yes Bar's Salted Maple Pecan bar, Functional Chocolate's newly released Chai Pain Free Chocolate, Rule Breaker's plant based mint chocolate brownie bites, Joshua Tree's Embrocation, Rasa's apoptogenic cacao mix, and much more.
Holiday RunnerBoxes or RiderBoxes can be purchased for $40 at therunnerbox.com or theriderbox.com respectively and will be available until they sell out.
About The RunnerBox and The RiderBox
The RunnerBox is the longest-standing subscription box in the endurance space. Offering boxes for runners and cyclists, it is a fun and easy way for any athlete to receive a regular supply of products to enhance their active lifestyles. Each box is filled with hand-picked products tested and approved by a team of professional athletes and nutrition experts. The RunnerBox and RiderBox offer subscriptions which are shipped every second month in addition to limited edition boxes and one-time gift boxes. To learn more about The Runner and RiderBox visit therunnerbox.com or theriderbox.com.