The RunnerBox and RiderBox Sellout of Limited-Edition Holiday Box on the Heels of Additional Subscription Openings
December 9, 2021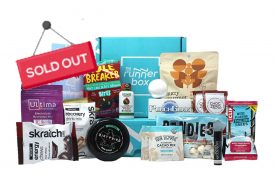 The RunnerBox and The RiderBox, the leading provider of athletic gift and subscription boxes, recently announced the sellout of their highly anticipated Holiday Box. Despite doubling inventory year-over-year, the seasonal Limited Edition sold out in a matter of weeks.
"Every year our team spends hours obsessing over what mix of products would make a dream holiday gift for a runners or cyclist, said Chief Endurance Officer Laura Jorgensen. "The swift sellout of this box validates that we delivered exactly what our audience was looking for and we couldn't be more pleased."
Just days before the sellout, the brand secured 400 additional subscription openings to help meet the high demand of athletes joining the service. "We are passionate about providing a convenient way for athletes to receive fuel and gear that pushes them to reach their full potential so we are thrilled to be able to extend our reach with these additional subscription openings," said Jorgensen.
Within a day, 25% of the additional capacity has been claimed. The remaining subscription openings will continue to be sold on a first-come, first served basis, after which remaining customers will be put on a waiting list.
To learn more about The Runner or RiderBox or to view their subscription offerings, visit www.therunnerbox.com or follow The RunnerBox on Instagram, Twitter or Facebook.
About The RunnerBox and The RiderBox
The RunnerBox is the longest-standing subscription box in the endurance space. Offering boxes for runners and cyclists, it is a fun and easy way for any athletes to receive a regular supply of products to enhance their active lifestyles. Each box is filled with hand-picked products tested and approved by a team of professional athletes and nutrition experts. The RunnerBox and RiderBox offer subscriptions which are shipped every second month in addition to limited edition boxes and one-time gift boxes. To learn more about The RunnerBox visit www.therunnerbox.com