The RunnerBox and RiderBox Help Athletes Spring into Action with their Latest Edition
April 6, 2022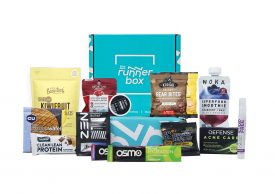 /ENDURANCE SPORTSWIRE/ – The RunnerBox and RiderBox have released the newest of their subscription series, the Spring Edition. Shipping throughout April and May, the Spring Edition features gear and nutrition thoughtfully curated to help athletes make their spring training and racing as successful as possible. From race fuel to muscle cream to functional chocolate and delicious dried gold kiwifruit, subscribers will be delighted by the treasures they find in this new edition.
"Spring is one of the most exciting times of the year for athletes. Racing is back in action and it's time to put all that winter training to the test," said The RunnerBox CEO Laura Jorgensen. "For this edition, we're thrilled to partner with brands that will supply our subscribers with the tools and fuel to help them deliver a rockstar spring performance and let all their hard work shine."
Starting as low as $28 and loaded with over $60 worth of goods, the edition will go out to all current subscribers as well as those who sign-up before the May 30th deadline. Here's a sneak peak of this edition's featured products:
For All Athletes:
Sweat purifies your soul…and destroys your skin. This medicated bar soap combines natural tea tree and eucalyptus oils with salicylic acid for a 1-2 punch that exfoliates and soothes.
MSRP: $8.99
Full Spectrum Zen – ThermaChill Sports Cream
Tell your pain to chill! This all natural-topical cream utilizes the healing benefits of CBD combined with the penetrating heat of menthol to target pain and inflammation at its source.
MSRP: $9.99
TFW you need an energy gel, but also want a delicious treat. Cue this yummy, syrup filled wafer that delivers critical simple and complex carbs to power your performance.
MSRP: $1.50
2 Toms – StinkFree Shoes and Gear Odor Remover
Have you ever tried to mask a stench? (It didn't go well, did it?) Rather than covering up the smell of your stinky shoes and gear, this spray goes deeper and actually removes the odors caused by sweat.
MSRP: $9.99
You'll feel like a kid in a candy store when you chomp on these delicious Sport Beans for fuel. Loaded with carbs, electrolytes, and vitamins, these beans optimize energy release during intense exercise.
MSRP: $1.00
Full Spectrum Zen – Energy Strips
These natural, vegan (some might say magical) energy strips use CBD to unleash mitochondrial energy and green tea caffeine to give you a long-lasting boost without the jitters or the crash.
MSRP: $9.99
Smoothie season IS. HERE. This on-the-go superfood delight teams up plant protein with nutrient-dense blueberries, stamina-boosting beets, and anti-aging Maqui Berry to create a blend that's oh so good (for you.)
MSRP: $2.49
Nuzest – Clean Lean Protein Bars
This plant-based bar blends pea protein with whole fruits, nuts, and seeds to deliver a potent and balanced mix of essential vitamins and minerals to turn you into a lean, mean, racing machine.
MSRP: $2.99
Osmo Nutrition – Active Hydration Singles
It's time to start day drinking! These all-natural electrolyte mix singles uses organic fruit to flavor their products making them light, refreshing, and able to be drunk all day long.
For Runners Only:
Vitafive – Apple Cider Vinegar Gummies
Want the probiotics and antioxidants of ACV without the horrible taste? These gummies pack a serious health punch and are the first in their class to have less than 1g of sugar per serving.
MSRP: $4.00
Your inner child will rejoice when you chomp on these nostalgic bites! Loaded with whole grains and 5g of protein, they make for a great snack for adventures big and small.
MSRP: $1.60
Little Beauties – Dried Gold Kiwifruit
Hailing from New Zealand and loaded with folate, potassium, and Vitamin C, these dried circles of golden kiwi goodness are another example of us yet being able to find something from NZ we don't like.
MSRP: $6.99
For Riders Only:
Vitafive – Elderberry for Immunity Gummies
Don't allow getting sick to stop you from gearing up for the races! These Immunity gummies are loaded with Black Elderberry Extract, Vit C, and Zinc to help support healthy immune function to get you to the start line.
MSRP: $4.00
This functional delight makes life a little sweeter by combining dark chocolate with botanicals and nutraceuticals to create condition-specific treats that tackle everyday health issues.
MSRP: $7.49
These light and crispy, lentil-based snacks pack a chip-ton of flavor. Not to mention, the powerful lentil makes them higher in protein and lower in calories, carbs, and fat than the average chip.
MSRP: $1.83
About The RunnerBox and The RiderBox
The RunnerBox is the longest-standing subscription box in the endurance space. Offering boxes for runners and cyclists, it is a fun and easy way for any athletes to receive a regular supply of products to enhance their active lifestyles. Each box is filled with hand-picked products tested and approved by a team of professional athletes and nutrition experts. The RunnerBox and RiderBox offer subscriptions which are shipped every second month in addition to limited edition boxes and one-time gift boxes. To learn more about The RunnerBox visit www.therunnerbox.com