The RiderBox Highlights Female Professional Cyclists in its Latest Winter Edition
January 9, 2023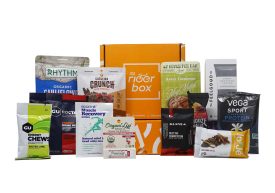 /ENDURANCE SPORTSWIRE/ – The RiderBox, a leader in the endurance gift and subscription industry, has debuted their Winter Edition which is receiving high acclaim due to its focus on female professional cyclists. The RiderBox, which itself was founded by two former professional female cyclists, has given back to the sport through everything from hiring riders as employees to team sponsorship, however this will be the first time the brand has had the opportunity to showcase products created by female cyclists themselves. The Winter Edition features JoJe Bar, founded by professional road/gravel racer and chef Jess Cerra and Supra Bar, founded by 17-time Master's National Champion and board certified Sports Dietitian Debbie Milne.
"The ladies in the professional peloton are absolutely amazing," said RiderBox COO and former New Zealand Road Race National Champion, Courteney Lowe. "Due to historically low salaries, many women are racing full-time while also taking on an entirely separate career in parallel. The dedication and grit needed to pull it all off often gets overlooked and we are so delighted that this box is able to highlight and support two of these rockstar women who are leading the pack in more ways than one."
Starting at just $29, this seasonally themed box is loaded with a mix of items valued at nearly $75 that will keep cyclists fueled, warm, and motivated during winter's chilly base season. From innovative recovery lotion to winter-inspired nutrition and lip balm, the coveted release will ship out to current subscribers, with a limited number available to those who sign up before the January 30th deadline.
See below for the list of featured products in the newly released Winter Edition:
The Feel Good Lab Sports Recovery Lotion
Make soreness cry "Uncle!" with this lotion that will make your muscles Feel Good while using ingredients that you can feel good about. MSRP: $28.95
Supra 'Beet the Competition' Bar
Beet the competition with this soft and delicious bar that includes beet root powder to help lower your muscles' oxygen needs and increase capacity for energy production. MSRP: $3.75
We will, we will Roc(tane) you! This carbohydrate intensive energy drink will help you push the limits during long, intense efforts. MSRP: $3.25 x 2
Chai your best with this balanced ingredient, cookie-like bar that packs all the nutrients you need to get you through long efforts. MSRP: $2.99
These energy dense chews let you GU for it! They contain carbs that maximize absorption, increase utilization, and diminish stomach distress. MSRP: $2.50
Winter can be grim. Your snacks shouldn't be. These heat crisped cauli-power bites are packed with vital nutrients and flavor that will keep you crunchin' to the beat. MSRP: $4.49
Epsom-It Muscle Recovery Lotion
TFW your muscles need an Epsom salt soak but you realize ain't nobody got time for that. This lotion provides 30X the benefits of a soak without the time drain and inconvenience. MSRP: $2.50
All the yum of your childhood favorite sandwich is infroozed into these coconut covered, PB&J filled, incredi-ball energy balls. MSRP: $1.49
Catalina Dark Chocolate Cereal
This cereal is cerealsly awesome. Loaded with plant-based protein and fiber and containing zero added sugars, it's the perfect way to start (or finish) the day. MSRP: $1.99
Kiss winter, chapped lips goodbye. This organic balm is infused with Sea Buckthorn making it ultra-moisturizing and – bonus – oval-shaped making it ultra-easy to apply. MSRP: $4.49
Sweet Logic Apple Cinnamon Mug Cake
This sweet treat lets you have your cake and eat it, too. Ready in minutes, high in protein and low in sugar, this apple-cinnamon wonder is the perfect winter indulgence. MSRP: $3.60
To join The RiderBox or learn more, visit https://www.theriderbox.com
About The RiderBox
The RiderBox is cycling's premier subscription box and is a fun and easy way for cyclists to receive a regular supply of products to enhance their active lifestyles. Each box is filled with hand-picked products tested and approved by a team of professional athletes and nutrition experts. The RiderBox offer subscriptions which are shipped every second month in addition to limited edition boxes and one time gift boxes. To learn more about The RiderBox visit www.theriderbox.com