The National Cycling League (NCL) Announces the Team Lineup for Miami Beach Invitational
April 4, 2023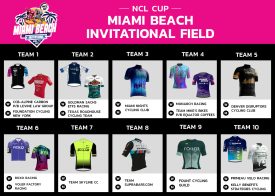 10 mixed-gender teams will compete on April 8th for their share of the NCL Cup's record-breaking $1 million prize purse in the inaugural race of the NCL Cup
Miami, FL, April 4th, 2023 /ENDURANCE SPORTSWIRE/ – The National Cycling League, the first of its kind, revolutionary professional sports league, built around 21st century values of diversity, gender equity, sustainability, and community, today announced the complete team lineup ahead of the inaugural NCL cup race, the Miami Beach Invitational on April 8th.
The NCL will be the only American Criterium race series broadcast globally to over 30 countries through its partnership with the Global Cycling Network, GCN+.
"With over 50 million cyclists in the U.S. and 10 million riding in virtual races, now is an incredible time to reinvent the sport of professional cycling," said Paris Wallace, NCL Founder and CEO. "We are changing the rules to make the sport more spectator and broadcast friendly for a younger generation, and establishing a record-breaking prize purse structured intentionally to allow more teams to participate in the earnings. We think these changes will unleash the potential of professional cycling. Furthermore, we believe that developing a more inclusive culture, especially our foundational pillar of creating equal access and opportunity for female athletes to compete and fans to participate, will be instrumental in this transformation."
Reed McCalvin, NCL co-founder and VP of Teams, added "We are thrilled with the caliber of the teams that have accepted our invitation to compete in the NCL Cup's inaugural race. The field of ten teams represents some of the top teams in criterium racing today. What is even more gratifying to me as a veteran of the sport is teams that do not have women's or men's squads as part of their structure, understood our vision and partnered to create new combined teams to compete under NCL rules requirements. This will take us closer to a long overdue, equitable future where professional cycling teams are made up equally of men and women.
NCL Media Contact: press@nclracing.com
###
ABOUT THE NATIONAL CYCLING LEAGUE
The National Cycling League, Inc. is revolutionizing professional cycling by building the professional sports league of the future – a league with foundational values of diversity, gender equity, sustainability, and community. Featuring a new cycling league format, the teams will race on iconic circuits, in the most iconic cities. Men and women will compete on the same team, on the same course, in a way that respects their differences yet weighs their performances and values their contributions equally.
The NCL will launch in 2023 with 10 teams of professional cyclists competing for a record-setting $1 Million prize purse across a series of criterium-style races in four major markets: Miami Beach, Atlanta, Denver and Washington D.C.. Visit www.nclracing.com. Follow on Instagram, Twitter and Facebook.
Paris Wallace
Paris is a co-founder and serves as the CEO of the NCL. A recognized expert on entrepreneurship and DE&I, he is currently an Entrepreneur-in-Residence at the Harvard Business School and previously lectured at MIT and Wharton. Prior to the NCL, Paris founded and served as the CEO of Ovia Health, the nation's leading women's health and technology company, which he sold to LabCorp in 2021. Paris also founded Good Start Genetics, a genomics technology company focused on fertility and reproductive health, which was acquired by Invitae.