The Mountain Designs Geoquest 20th Anniversary race kicks off ARWS Oceania 2022
June 9, 2022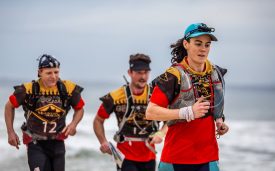 The 20th Mountain Designs Geoquest adventure race will take place this weekend with its headquarters in the coastal hamlet of Shoal Bay, NSW.
/ENDURANCE SPORTSWIRE/ – The 20th Mountain Designs Geoquest adventure race will take place this weekend with its headquarters in the coastal hamlet of Shoal Bay, NSW. The race is the first in the 2022 AR World Series Oceania Series, and teams of 4 will race for up to 48 hours; trekking, mountain biking and paddling on rivers and the ocean, as they tackle Australia's oldest, toughest and premier adventure race.
The event is Australia's original adventure race and the keystone date in the country's adventure racing calendar, with regular teams regarding it as an annual get together. Teams new to adventure racing are welcome too, as the race has 'full' and 'half' distances, both allowing teams a full 48 hours to complete their course. The leaders will finish in much quicker times, and the aim is to allow enough time for every team to have the best chance to cross the finish line.
The race always takes place somewhere on the NSW coast, and Shoal Bay is a new venue, though a few competitors from years gone by may recognise some of the locations on the course. Shoal Bay Mayor Ryan Palmer, welcomes the race, and said, "Port Stephens is the perfect location for the GeoQuest Adventure Race – with spectacular waterways, stunning sand dunes, coastal walks and national parks – our environment will provide a race course that's tough, but a real adventure.
"We love hosting events like GeoQuest – it's not only great for our community, it's great for our economy. By just being here, competitors and their families are supporting our local businesses."
Teams know the outline of the race, but they won't know where they are going until they get their maps at the race briefing. There are plenty of options in the surrounding National Parks, with Myall Bay to the North, Hunter Wetlands to the South, and Wallaroo and Karuah inland. There's the magnificent 32 km long Stockton Beach as well, with some of the largest, moving, coastal dunes in the Southern Hemisphere.
The Port Stephens region will provide an inspiring and testing adventure playground for a weekend of adventure racing, and Race Director Chris Dixon of Wild and Co. has hinted at choosing tyres for beach riding, and maybe having an underwater checkpoint.
He says, "The temperatures look like being cold for the time of year, so the 3 paddle legs are going to be the big challenge in temperatures of 5-15 degrees and with a cold 18 knot westerly wind.
"There will be beautiful coastal sections, a huge hill in the hinterland, and some muddy, wet off-trail sections following recent rains."
All the teams will use map and compass navigation to find the checkpoints, and have been given a plan of the course. For the Full course, that's a total of 4 run/trek stages, 3 paddles, including ocean paddling, and 3 mountain bike stages. The race finishes with a long run to the finish which will take teams 3.5 to 6 hours. The half course has 3 paddles, 4 runs and two bike rides, but with no ocean paddling.
The teams can race with or without a support crew to back them up, and there is a good mix of male, female and mixed teams in the entry of 22 Full Course teams and 15 Half Course teams.
Many of the racers have been attending for years, and the race history goes back to the first Australian adventure race in 2002. The winners list is a who's who of world class Australian adventure racers, and many have since established their own events around Australia as the sport has grown.
For the elite teams, it is a race title which matters, and long time race sponsors Mountain Designs offer an extensive range of prizes from their outdoor equipment range. This year there is even more at stake as the race is the opening event in the Adventure Racing World Series Oceania Series.
The winners will get a place in the 2022 Oceania Regional Championships at Gold Coast in October, and the winners there will claim a free place at the Adventure Racing World Championship in South Africa next year. A strong performance in NSW this weekend could take teams a very long way!
Last year's winners, Thunderbolt AR, are returning. Last year they combined with the Alpine Avengers team after Covid travel restrictions affected who could travel to the race, but this year they are returning with most of their original squad. They also won in 2017 and are ranked 16 in the Adventure Racing World Series global rankings, so will carry the favourites tag.
Speaking before the race Bern Dornom said, "We can't wait to race Geoquest again. It's an annual pilgrimage and a chance to catch up with fellow adventure racers and swap stories both pre and post race. I'm looking forward to racing with team Thunderbolt as it's been a couple of years and a baby since I've raced with the team. And there is nothing better than getting lost in the bush with your mates!
Hugh (Stodart), Josh (street) and I are original Thunderbolt members and Myall Quint (my partner) stepped into the team when he got me pregnant. Some would say that was a strategic move! We are definitely expecting to have a lot of laughs out on course and hopefully bring back some of the Thunderbolt magic efficiency."
One of the teams most likely to challenge Thunderbolt is '3 Points of Contact' lead by one of the country's most experienced racers, Gary Sutherland. "Geo is the race that started AR in Australia and it's always a great ocean/beach/hinterland adventure." He said. "Our team is relatively new. I did Clint's (Falla) first race with him 3 years ago, Laura (Newton) is an obstacle course racer who has been doing adventure racing for a couple of years and Etienne (Gautier) is a young guy who is constantly improving and wanted to join us for the experience of racing slower and smarter. We are looking to enjoy what Chris has planned for us this time."
The Alpine Quest team is also racing again, this time with founder Serge Kurov bringing all his experience to the team. He said, "I've not been racing for 3 years and we have a team coming together from all around the country, so we are super excited." He has raced for almost 20 years, including many AR World Championships, and offered teams an instructional video on Facebook before the race with a breakdown of how to pack and prepare ahead of the race. He too was highlighting the cold overnight kayak and long final run as the stages teams will need to prepare for.
Another team to watch, who have youth on their side, and the experience of racing Geoquest before, are Capital AR. They entered Geoquest as a youth team in 2021 and finished as the top male team, with only two mixed premier teams ahead of them.
This time they are racing in the Mixed Premier category (for AR World Series qualification) and Charlie Henshall said, "We're a group of friends who got into AR at university in Canberra and have been training through the chilly winter to make sure we are underprepared for the big race. This will be our second Geoquest and after having a ripper time last year, and doing pretty well, we thought we would come back. It's a home town race for Brad 'Loaf' Vallette, and a good excuse to avoid exam study! Our expectations are to get through the full course and get weird out there."
For all those taking part it promises to be a memorable weekend of incomparable experiences with their team mates. Friends and family will be able to follow their progress as the race has live satellite tracking, and there will news updates and photos on the Wild and Co. Facebook page.
You can find out all about the race and see the link for the live tracking at; https://www.geoquest.com.au/ and https://www.facebook.com/wldnco
The race is organised by Wild and Co. who run adventure sports competitions throughout the year (https://www.wldnco.com/) and is part of the ARWS Oceania series (https://arworldseries.com/arws-oceania/).