The Malacara Race – Adventure on a Magic Island as the ARWS Returns to Brazil
March 4, 2023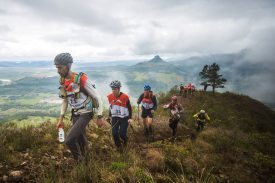 The ARWS moves straight from the Snowy Mountains of Australia to one of Brazil's most famous beach resorts!
/ENDURANCE SPORTSWIRE/ – After an amazing start to the 2023 Adventure Racing World Series with The Legend race in Australia, it's now time for the Malacara race in Brazil.
The ARWS moves straight from the Snowy Mountains of Australia to one of Brazil's most famous beach resorts!
The Malacara race is the first time World Series expedition racing has returned to Brazil since the 2015 World Championship in Pantanal and Brazil is one of the few countries to hold two World Championships – the first being from Jericoacoara in 2008.
After holding a first expedition length race last year the race organisers, Benito Brocca and Léo Nardi, will now welcome racers from 10 nations to the famous resort of Florianópolis for the new ARWS Demonstration race. The brothers have been organising events for many years and they volunteered as staff members in last AR World Championships in Paraguay, where they were in charge of gear checks and logistics and learned a lot from the experience.
Florianópolis is their home city and is called the Magic Island, known internationally for its incredible beaches, great gastronomy and beautiful scenery. The island has many beautiful, small towns and lots of dense vegetation on its steep hills, which will add over +13000mts of altitude into the course.
"It will be one of the most beautiful races in the history of Brazil!" Said Leo Borba.
Twenty-six teams are entered in the main ARWS category for mixed teams of 4 and they will face a course of 500kms in 8 sections, where all water sections will be in packrafts provided (and produced) by the organization.
There will be 10 nations represented, including some very experienced World Series teams.
Form Denmark come Team Masanga Racing, who won the first ARWS Regional round in Europe in January, and who are already enjoying this paradise.
The experienced Uruguay Ultra Sports team will arrive looking for a great result after some bad luck last month in the South American Championship race in Paraguay, and there will be teams and athletes from Paraguay, Mexico, Colombia, Chile, France, Canada and USA on the start line.
Among the best of the Brazilian teams, from a very strong racing community lead by the Brazilian Federation, are former national champions Lagartixa, also Terra Santa Cruz and Black Mamba (4th last month in South American Championship) who are joined by experienced navigator and cyclist Federico Sosa from Uruguay.
Another team to watch is AKSA, who had a great race in last year's World Championship in Paraguay. In this race, captain Guillaume Habouzit is joined by 400 team's Romuald Viale (France), recent South American Champion from Paraguay, Fernando Perez, and power racer Mariana Pontes (who raced the last World Championship with Team Keltoi).
Satellite tracking will be available when the race starts on Sunday the 5th and there will be regular news updates throughout the race on the Malacara and AR World Series Instagram and Facebook pages.
For more information see www.malacararace.com.br