The Legend Expedition Race in Australia Starts the 2023 Adventure Racing World Series
February 23, 2023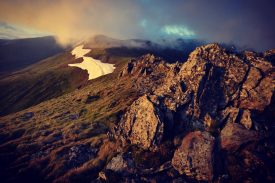 The first race in the 2023 Adventure Racing World Series is in the Snowy Mountains of Australia
/ENDURANCE SPORTSWIRE/ – This year's Adventure Racing World Series spans 10 countries and the new Legend XPD race in Australia is the first, taking place from February 25th to March 4th.
The expedition adventure race is based in Jindabyne, a popular alpine town that sits on the shores of the picturesque Lake Jindabyne at the edge of the Snowy Mountains.
Teams will begin arriving for registration on Saturday at the Conference Centre at the Adventist Alpine Village, which has the perfect facilities for a race HQ. After competency checks and a race briefing they will prepare for Sunday's 09.30 race start. They won't know the details of the course until 2 hours before the start when they receive the race maps and can plan their route for the next 6 days of adventure.
The race is organised by Wild&Co, and is the first of 6 races planned for this year in Australia and New Zealand, the last of which will be the Adventure Racing World Series Oceania Championship in November.
The Race Director is Chris Dixon and The Legend is the first expedition length race he has planned after working in the events industry since 2007 and adventure racing since 2016. To date he has organised 20 adventure races and now it's time for Chris and his team to deliver the ultimate outdoor challenge, a 6 day non-stop expedition race.
"Every adventure race is part of the learning curve for a Race Director," he said, "and over the years I've coped with all sorts of challenges from extreme weather to Covid restrictions. You never know quite what will happen and have to prepare for the expected and be ready to cope with the unexpected!
"Organising a race non-stop for 6 days in the mountains and wilderness is a real challenge and a privilege. I've had the opportunity to explore this amazing area while setting the course and now get to share it and send teams on the journey of a lifetime. The race will be a unique experience and I want the competitors to enjoy every moment.
"We're going to cover some amazing ground with real highlights in each leg – from big views to remote gorges, cliff edges, alpine waterways and rolling high country plains. The highlight will be summiting Australia's highest peak, Mount Kosciuszko."
The course covers 507km with over 10,000m of climbing, and teams have 6 days to complete the route, with the leaders likely to finish on day 3. There are 13 stages in all, including 6 foot stages (orienteering, trekking and gorge walking), two kayak stages and 5 navigational MTB rides, including what may be the toughest stage of all, 143km ride with an elevation gain of 4250m.
The route will take teams into a uniquely Australian landscape with rolling farm land, pristine alpine environments, huge alpine lakes, the snowy river and some spectacular rock formations. Teams will experience high mountains, big skies and wide open plains.
The race guide warns teams to prepare for extremes of weather, reminding them that reports from other races in the area say teams have 'never been hotter and never been colder', all in the space of a day. Teams are warned the mandatory race gear is a minimum and to consider packing extra warm gear. The paddling stages on two big Alpine lakes will be cold, especially at night and if the wind picks up. On the second of these teams will need to tow extra kayaks with their bikes in to reach a remote transition point.
Ten teams will be on the start line next Sunday, some with considerable expedition race experience and pedigree, and others taking on a new level of challenge. The teams of 4 will be aiming to complete the full course and every member of the team must cross the finish line together to achieve that. The premier category is for mixed teams and the most experienced teams in this category are '3 Points of Contact', 'Capital AR' and team 'E Dog and the JJ's'.
There are two equally experienced all female teams as well. 'Vortex Diva's' and 'Mountain Designs Wild Women' regularly race against each other in Wild&Co races and their strategic race planning and team work will be even more important over an expedition length course.
Dixon said, "We owe a huge thank you to everyone that has entered. This is an exciting stage in our journey and we've been dreaming of this event for a long time. And while we're 100% focused on delivering this event, we are hoping very much this is just the start for the Legend!
"Special thanks must go to our sponsors Mountain Designs, Trail Brew, TrackMe NZ and to Snowy Mountains Tourism for their support – it's very much appreciated. And of course to the logistics and volunteer team that will make the race happen. We couldn't do it without them!"
The race will have live satellite tracking on https://www.followmychallenge.com/live/legend-expedition-race-2023/ and there will be regular reporting and photography on the Wild&Co Facebook page – @wldnco.
There will also be news on the social media pages for the Adventure Racing World Series (@arworldseries) and ARWSOceania pages (@arwsoceania).
For full information on the Legend Expedition Race see – https://www.legendexpd.com.au/