The Land of Endurance Daily Recap – Tuesday, May 3, 2022
May 4, 2022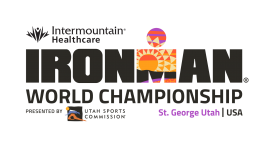 Race week festivities for 2021 Intermountain Healthcare IRONMAN World Championship Presented by Utah Sports Commission officially kick off with opening of IRONMAN Village, athlete check-in, IRONKIDS Fun Run, and Parade of Athletes
ST. GEORGE, Utah – Race week for the 2021 Intermountain Healthcare IRONMAN® World Championship presented by Utah Sports Commission has officially kicked off in St. George, Utah, bringing along a plethora of activities and events. Every year tens of thousands of triathletes across the globe strive to make it to the IRONMAN World Championship starting line and race among the best at this prestigious event. The Land of Endurance Daily Recap pays homage to this year's IRONMAN World Championship host location, recapping the last 24 hours of activities.
The 2021 Intermountain Healthcare IRONMAN World Championship presented by Utah Sports Commission IRONMAN Village Opens
The IRONMAN Village opened up to athletes from around the world to begin check-in for the first IRONMAN World Championship since 2019. Located in Town Square Park of downtown St. George, the IRONMAN Village is the hub for event week, serving as the location of athlete check-in, bike tech support and information tents as well as the Official IRONMAN Merchandise Store and Official Partners booths. Athletes and supporters alike can engage with technical products for training and racing along with everyday lifestyle products. Athlete check-in continues through Thursday, while the IRONMAN Village will be open to all through Friday.
IRONKIDS Race
In conjunction with the 2021 Intermountain Healthcare IRONMAN World Championship presented by Utah Sports Commission, IRONMAN celebrated the next generation of athletes during the IRONKIDS event on Tuesday, May 3, at Town Square Park. Youth from ages of one to 17 were eligible to compete in a quarter-mile, half-mile or a 1-mile run course. The event saw hundreds of young participants make their way around Town Square Park as they. The children were greeted at the finish line by some of the athletes that will take to the start line during Saturday's Intermountain Healthcare IRONMAN World Championships presented by the Utah Sports Commission. The event also marked the 11th 'I AM TRUE' Day which focuses on important work with athletes and the triathlon community to promote clean sport and the integrity of IRONMAN® racing. By pairing with the IRONKIDS event, the initiative brings its message of fair racing to the next generation of athletes.
Parade of Athletes
Following the IRONKIDS Race, the Dixie High School Marching Band led athletes from 81 countries, regions, and territories as they enthusiastically celebrated their accomplishments of making it to the IRONMAN World Championship. Athletes were seen wearing their team shirts, waving flags, and cheering during the prominent IRONMAN Parade of Athletes. The Parade led athletes down Main Street, St. George, past the IRONMAN M-Dot statue located in the circle at Tabernacle St. and Main St. before making their way through a tunnel of country flags in IRONMAN Village.
LOOKING FORWARD
The 2021 Intermountain Healthcare IRONMAN World Championship's week of events continues Wednesday, May 4. at 7:00 a.m. with a practice swim at Sand Hollow State Park, as well as IRONMAN Partner activations and Official IRONMAN Merchandise within the IRONMAN Village.
Media Center
The Intermountain Healthcare IRONMAN World Championship presented by Utah Sports Commission media center is located on the first floor of the Washington Country School District Building. The operating hours are:
Wednesday: 9:00 a.m. – 5:00 p.m. MST
Thursday: 9:00 a.m. – 5:00 p.m. MST
Friday: 9:00 a.m. – 5:00 p.m. MST
Saturday: 5:30 a.m. – 1:30 a.m. MST
For more information about the 2021 Intermountain Healthcare IRONMAN World Championship presented by Utah Sports Commission event, please visit www.ironman.com/im-world-championship-2021
For more information on the IRONMAN and IRONMAN 70.3 brands and global event series, visit www.ironman.com. Media may contact press@ironman.com.
###
About Intermountain Healthcare
Located in Utah, Idaho, and Nevada, Intermountain Healthcare is a nonprofit system of 25 hospitals, 225 clinics, the Intermountain Medical Group with some 2,700 employed physicians and advanced care practitioners, a health plans division called SelectHealth, Homecare, and other health services. Helping people live the healthiest lives possible, Intermountain is committed to improving community health and is widely recognized as a leader in transforming healthcare by using evidence-based best practices to consistently deliver high-quality outcomes and sustainable costs.
About Utah Sports Commission
The Utah Sports Commission was created to be a catalyst for Utah in its Olympic legacy efforts and to help enhance Utah's economy, image, and quality of life through the attraction, promotion, and development of national and international sports. Since the 2002 Olympics and Paralympics, the Utah Sports Commission has attracted nearly 900 major events to the state. The Sports Commission works closely with communities, sports entities, and organizations to provide event services ranging from the bid process, on-site logistics, volunteer coordination, sponsorships and promotional opportunities, and other related services. It is a not-for-profit 501(c)6 business league and Utah Sports Commission Foundation, a not-for-profit 501c3 charitable organization, is governed by an all-volunteer Board of Trustees consisting of statewide sports, business, community, and government leaders. For more information, visit www.utahsportscommission.com and follow us on Twitter, Instagram and Facebook.
About the IRONMAN World Championship
Since its inception in 1978 on the Island of O`ahu, the IRONMAN World Championship has etched its name in history through stellar performances, inspirational participants and emotional memories. In 1981, the race moved from the tranquil shores of Waikīkī to the barren lava fields of Kona on the Island of Hawai`i where it continues to take place to this day. The race now sees over 2,500 athletes embark on a 140.6-mile journey that presents the ultimate test of body, mind, and spirit to earn the title of IRONMAN World Champion. The most iconic one-day sporting event in the world is the culmination of 40 global IRONMAN events with over 94,000 athletes around the world striving for one of the coveted qualifying slots. The 2021 edition of the event will take place in St. George, Utah in May 2022, becoming the first location to host the event outside of Hawai`i since its origins in 1978. After a two-year hiatus from Kona due to COVID, the race will return to Kona and take place as a two-day event in October for the 2022 edition of the World Championship. For more information, visit www.ironman.com/im-world-championship.
About The IRONMAN Group
The IRONMAN Group operates a global portfolio of events that includes the IRONMAN® Triathlon Series, the IRONMAN® 70.3® Triathlon Series, the IRONMAN® Virtual Racing™ (VR™) Series, 5150™ Triathlon Series, the Rock 'n' Roll® Running Series, the Rock 'n' Roll Virtual Running™ Series, IRONKIDS®, World Triathlon Championship Series, premier running events including the Standard Chartered Singapore Marathon™ and The Sun-Herald City2Surf®, UTMB® World Series events including Tarawera Ultra and Ultra-Trail Australia™, Epic Series™ mountain bike races including the Absa Cape Epic®, road cycling events including Haute Route®, and other multisport races. The IRONMAN Group is the largest operator of mass participation sports in the world and provides more than a million participants annually the benefits of endurance sports through the company's vast offerings. Since the inception of the iconic IRONMAN® brand and its first event in 1978, athletes have proven that ANYTHING IS POSSIBLE® by crossing finish lines around the world. Beginning as a single race, The IRONMAN Group has grown to become a global sensation with hundreds of events across 55+ countries. The IRONMAN Group is owned by Advance, a private, family-owned business. For more information, visit www.ironman.com/about-ironman-group.
About Advance 
Advance is a private, family-held business that owns and invests in companies across media, entertainment, technology, communications, education and other promising growth sectors. Our mission is to build the value of our companies over the long-term by fostering growth and innovation. Advance's portfolio includes Condé Nast, Advance Local, Stage Entertainment, The IRONMAN Group, American City Business Journals, Leaders Group, Turnitin, 1010data and Pop. Together these operating companies employ more than 17,000 people in 29 countries. Advance is also among the largest shareholders in Charter Communications, Discovery and Reddit. For more information visit www.advance.com.