The Kilimanjaro Trail Run is a World-Class Event and a Force for Good
March 2, 2022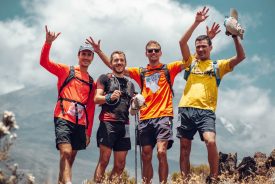 Two days and four races to promote sustainable tourism on Africa's tallest mountain
/ENDURANCE SPORTSWIRE/ – This September, the Kilimanjaro Trail Run (KTR) will offer four high-altitude races over two days on Africa's tallest mountain. Mount Kilimanjaro is a beacon directing our attention toward climate change, deforestation, and the need for clean energy and clean water. The Kilimanjaro Trail Run will champion these global issues and demonstrate how runners can appropriately shoulder the responsibility of caring for each other and the planet we share.
"Trail runners from around the world can be assured that the event is founded on the principles of sustainable development, improving communities, educating the public around global issues of climate change, and connecting socially conscious brands and development organizations with the event," said Ingrid Beutler, co-founder of the Sustainable Mountain Alliance.
Events kick off on Saturday, September 3 with a 21km trail half marathon. Sunday, racers can pick from a full 42km trail marathon, or push their limits even further with 67km and 74km ultra events.
"We're thrilled to offer trail runners from around the globe the opportunity to experience Africa's tallest mountain. Kilimanjaro is such an incredibly iconic peak, and to run its ancient rain forests and heathered alpine zone in a single day is the stuff of dreams," said event promoter Brett Harrison.
The Kilimanjaro Trail Run is the ideal destination race. The 67km and 74km ultras will challenge even the most experienced endurance athletes. The half marathon is designed to be a terrific introduction to high-altitude running. There is a race for everyone in your running group and a seat in the Land Cruiser for your post-race wildlife safari in the Serengeti.
"Brett crafts challenging races in spectacular natural environments that are normally out of reach to even the most adventure-minded athletes. The race support—from thoughtfully-marked trails, well-stocked food and water stations, and comfortable campgrounds that bring the racers and their families together—place Red Knot's adventure racing brand in a league of its own," said 2021 event participant Jesse Leff.
Mark your calendars and set your alarms: Registration for the Kilimanjaro Trail Run opens on Monday, March 7. Early bird discounts are available. Click here to register.
###
Media Contact 
Brett Harrison
Email: Brett@redknotracing.com
For Images:
https://www.dropbox.com/sh/2ja9j7pehsapzge/AACIRvZSthku7HTvfCkOGpDOa?dl=0
Photo Credit: Kilimanjaro Trail Run
For More Information 
https://www.kilimanjarotrail.com/
Social Media Outlets
Instagram: https://www.instagram.com/kilitrailrun/
Facebook: https://www.facebook.com/kilitrailrun