The Global Marathon goes big for Autumn 2022
August 5, 2022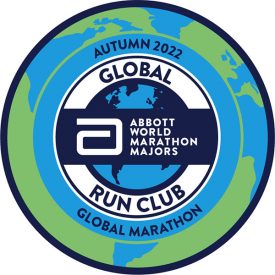 Extended race period to allow runners to double their medal moments
MEDIA ALERT
Monday 5 August /ENDURANCE SPORTSWIRE/ –  The AbbottWMM Global Run Club launched the fourth edition of the Global Marathon today which is set to be bigger and better this autumn.
Kicking off on Sunday 25 September with the BMW-BERLIN Marathon, the virtual event is open until Sunday 6 November when the TCS New York City Marathon – the final Abbott World Marathon Major of Series XIV – takes place.
The live leaderboard will show the runners' performances throughout the race season and once all results are in and verified, those aged 40 and above will be in contention for one of 200 invites on offer to the top-placed runners across nine age categories for the 2023 AbbottWMM Wanda Age Group World Championships.
Runners can complete their 26.2 miles as part of a Major, another in-person race or plot their own course around their home! Those running at an AbbottWMM Wanda Age Group qualifying event will also earn world ranking points for the in-person qualification route, giving runners the perfect opportunity to double their chances of making it to the World Championships.
The Global Run Club is offering runners the chance to collect their Global Marathon medal at the AbbottWMM race expo of their choice. For Expo collection, runners must order two weeks ahead of the start of race week. The medal will be available for collection at the AbbottWMM booths in Berlin, London, Chicago, and New York City.
Registration is open NOW.
– END-
For media inquiries, please contact:
Lorna Campbell
Head of Communications, Abbott World Marathon Majors
ABOUT ABBOTT WORLD MARATHON MAJORS
The Abbott World Marathon Majors (AbbottWMM) is a series of six of the largest and most renowned marathons in the world – Tokyo Marathon, B.A.A. Boston Marathon, TCS London Marathon, BMW BERLIN-MARATHON, Bank of America Chicago Marathon and TCS New York City Marathon.
Encompassing an annual series for elite runners and elite wheelchair athletes, AbbottWMM also applauds the achievements and passion of everyday champions from around the world. The AbbottWMM Six Star System is an online results hub that celebrates every runner who has completed from one to six of the races in the series and encourages them to 'Reach for the Stars'.
The AbbottWMM launched the AbbottWMM Wanda Age Group World Rankings in 2018 and the second AbbottWMM Wanda Age Group World Championship race will take place on 02 October 2022 as part of the TCS London Marathon.
The AbbottWMM Global Run Club launched in August 2020 and aims to bring together the global community of marathon runners on a virtual platform.
For more information, visit www.Abbottwmm.com
ABOUT ABBOTT
Abbott is a global healthcare leader that helps people live more fully at all stages of life. Our portfolio of life-changing technologies spans the spectrum of healthcare, with leading businesses and products in diagnostics, medical devices, nutritionals and branded generic medicines. Our 113,000 colleagues serve people in more than 160 countries.
Connect with us at www.abbott.com, on LinkedIn at www.linkedin.com/company/abbott-/, on Facebook at www.facebook.com/Abbott and on Twitter @AbbottNews.