The Epigenetic Rhode Runner
October 22, 2021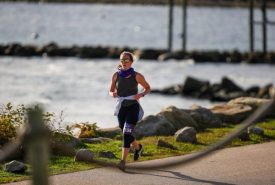 Introducing Epigenetics to the Ocean State Rhode Races
Narragansett, Rhode Island. /ENDURANCE SPORTSWIRE/ – Performance Medicine® introduces epigenetic performance testing and related cutting-edge protocols for endurance athletes at the Narragansett Marathon this Sunday.
The iconic event is one in a series of Ocean State Rhode Races [OSRR] managed and promoted by Susan Rancourt and Karen Cox, visionary owners of Rhode Races and Events.
Endurance athletes are among the fittest beings on the planet but it does not equate to being healthy. Endurance athletes often fixate on improving performance while health insidiously declines.
What if you could genetically optimize your health, performance, and enhance longevity? Performance Medicine has the technology to eliminate the guesswork, decode superhuman, reverse age acceleration, and propel your limitless expression. Click biological age epigenetic reports for more information.
Epigenetics represents the study of changes in organisms caused by modifications to gene expression absent any alteration to the genetic code [DNA sequence].
Epigenetic testing is the solution to unlock your limitless genetic potential and provide the keys to your mansion of optimal health, unparalleled performance, and enhanced longevity in life and sport.
Life begins and ends at the cellular level. The game-changing science of epigenetics catalyzes personalized and precise optimization strategies to ignite exponential changes to client cognition, physiology, performance, and longevity.
"Through his direct but simple counsel, I grasped the concept of epigenetic testing and the results created a gigantic 180° turn in my life. I dropped the chains of excess weight holding me down from my endurance goals, checking off a major excuse, yet winning a trophy of life: better and fitter health. It was like he opened the doors to the casino of health."   ~ Phillip Gary Smith
The art and science of precision health and limitless performance in life and sport is an inside-out, integrative proposition – because growth has no endpoint.
Now is the perfect time to rewrite your script.
About Performance Medicine®

Performance Medicine® is a visionary consulting firm providing ultra-endurance athletes synergistic solutions to genetically transcend health, performance, and longevity in life and sport.
Performance Medicine® is uniquely positioned at the forefront of genomic testing in the endurance space to propel epigenetics as an alchemical, new, limitless potential paradigm.
Our products and services ecosystem leverages cutting-edge research and technology to shift genetic expression via innovative, incisive, evidence-based measures, and strategic actions to redefine health and performance.  https://pmsynergy.com/.
###