The countdown is on for the 2022 World Triathlon Championship Series Bermuda
October 19, 2022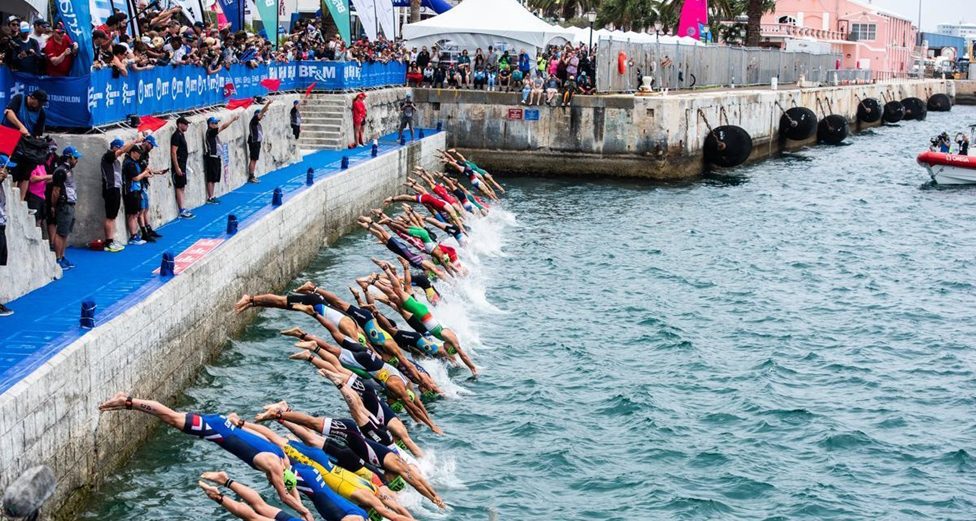 Less than a month until Dame Flora Duffy returns to racing in Bermuda Tyler Smith and Erica Hawley secure spots in the WTCS Bermuda Elite races Individual and Relay Team registrations remain open until 30 October
Hamilton, BERMUDA – 19 October, 2022 /ENDURANCE SPORTSWIRE/ – Anticipation mounts as the World Triathlon Championship Series (WTCS) Bermuda makes its long-awaited return on 5 – 6 November, 2022, just under a month away. It is all hands-on deck to pull together an event of this magnitude, and both the public and corporate sectors across the island are helping organisers shape what looks to be another stellar event in the City of Hamilton.
Restaurants along Front Street and FREE viewing areas spread out around the racecourses are anticipated to be filled with local and international fans waving flags as their friends, family, and favourite athletes go head to head on one of the most challenging triathlon courses in the global championship's series.
Registration for Age Group and Relay Team athletes – at tribermuda.com – continues throughout the month of October. International participants who register during the next 2 weeks will receive a $500 gift card to use on the island for use at restaurants and shops. The event organisers are inviting people to get together to swim, bike, run and to challenge themselves, whether taking on the entire course singlehandedly, or by combining efforts to build a relay team. Relay teams can be corporate, all female, all male or male and female
Hazel Clark, Chairperson and CEO, WTS BDA Ltd said: "It's been a few years since our last Bermuda-based event, and now we're looking at it being a few weeks away. The lineup of athletes participating is undeniably exciting. The energy building is indescribable, ahead of a great weekend of Age Group and Elite racing."
Spectators both on the ground and those watching the broadcast around the world will witness the return of Dame Flora Duffy, OBE as the hometown favourite. Fans will recall Flora's epic 2018 MS Amlin World Triathlon win in front of large crowds as she breezed through the finish chute on the famed blue carpet. An inspiration to many, the 2020 Summer Olympic gold medalist has ignited a passion for many young people to join the sport. Rising Bermuda Elite athletes Erica Hawley and Tyler Smith have also secured places in the event, adding to Bermuda's growing talent and pride in the triathlon space.
Alec Shepherd, Vice President, Bermuda Triathlon Association and member of the WTCS Bermuda Local Organising Committee said: "Development of local triathletes has really come on in recent years. Bermuda has a tremendous amount of talent and a lot to look forward to with the rise of Erica Hawley and Tyler Smith and others coming through.
"Bermuda's natural surroundings are an ideal year-round training ground for the sport. Our youth programmes have been flourishing and a large number of age group athletes, both local and international, will be participating in the Age Group races and the RenaissanceRe Kids Duathlon on the same streets that the Elites will race on in the City of Hamilton."
Company support for the WTCS Bermuda has been consistently strong over the years with the 2022 event being no exception. The lineup of sponsors is an indication of unwavering dedication to ensure a successful event, and to ensure Bermuda continues to shine as a world class sporting venue.
The event's Main Sponsors include Bacardi, Bermuda Tourism Authority, BF&M, City of Hamilton, and HSBC. Official Partners are Butterfield & Vallis, Carey Olsen, Clarien Bank, and One Communications. The weekend would not be complete without Official Suppliers PwC
Bermuda, Winners Edge, and Kids Duathlon sponsor RenaissanceRe.
For detailed information, visit the event website at tribermuda.com, and follow @worldtriathlonbermuda on Instagram and Facebook.
Media Contact //
Schereene Outerbridge, Local Communications Manager – WTCS Bermuda | groundworkbda@gmail.com | BDA: 441-707-1300