The Booger Fund Announces Booger Bash Fundraiser, Auctions
September 6, 2023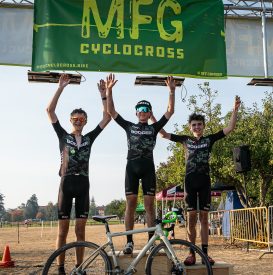 Fundraisers for scholarships and youth cycling on a national level
SEATTLE, Wash. – SEPTEMBER 6, 2023 /ENDURANCE SPORTSWIRE/ – The Booger Fund is thrilled to announce its first fundraising event The Booger Bash. The Booger Fund has been working to develop young cyclists into successful young adults across the country for the past five years, while also mentoring and facilitating access to marquee events for its team's racers.
The Booger Bash will take place in the hometown of The Booger Fund, Seattle, WA, September 16th at Seattle's historic Labour Temple. Attendees are asked to make a $50 donation. There will be complimentary tacos on hand, as well as wine, and Manny's beer, which should help lubricate some action on Booger's numerous silent auction items.
Booger is built on a foundation of learning, sharing, and working together to make a positive impact in the lives of others. It's the heart of our annual 'Making a Difference Scholarships,' which was recently awarded to seven deserving young cyclists headed to college this year. In addition to riding, training, and racing mentorship, The Booger Academy is a program of studies fostering skills of communication, empathy, self-awareness, and problem-solving. We promote personal growth in a positive, inclusive environment.
Key Auction Items
Toronto-based Bridge Bike Works and Santa Cruz-based Ibis Cycles have both graciously donated framesets to be auctioned online starting now and concluding the night of the Booger Bash. For more information on these auctions, other items, and to bid now, visit teambooger.com/registration.
The Ibis Hakka MX frameset that we will be auctioning off carries an MSRP of $2,199 and was incepted as a cyclocross race weapon. The Hakka MX has evolved over the years and today is a do-it all-dirt-drop machine – not dissimilar from Booger's roots with its youth development programs.
Bridge Bike Works' Surveyor frameset – which carries an MSRP of approx. $4,100 – is designed, precision-engineered and built in North America. The Bridge Surveyor, like Booger, celebrates the relationship between rider and bike, the places, and the community that riders create. Be it an all-around road bike, or a go-fast gravel bike, the Surveyor is the perfect option.
From Booger
"It's such an honor to finally bring the whole Seattle community together for the Booger Fund," offers Booger Fund's Executive Director Steve Westover. "While we are a Seattle-based organization, Booger is being more and more active nationally with our riders and scholarship programs. What's more, this fundraiser bears a special place in my life, as this Bridge Surveyor was initially ordered by my late brother, an instrumental mentor for Booger, and now it will be built for someone who truly supports his vision for furthering young people's development through cycling."
To learn more or join the program, contact steve@teambooger.com or visit teambooger.com.
About Team Booger:
Team Booger is a 501(c)(3) nonprofit founded in 2017 dedicated to growing youth cycling (ages 6-23) in the United States. Team Booger provides young people with guidance, education, leadership, and support to act locally but think globally in everything that they do. We use cycling as a catalyst to teach kids to give back to our communities and support charities and entities we care about. To date, Team Booger has donated over $60,000 to charities through fundraising and donations.