The APEX Outdoor Festival & Expo Returns to Colorado Springs Sunday, September 25th
June 14, 2022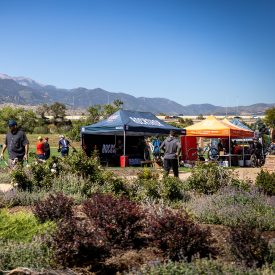 2022 Pikes Peak APEX presented by RockShox Brings Back Outdoor Festival & Expo to Celebrate Outdoor Recreation and Offers Something for Everyone
Colorado Springs, CO, June 14, 2022 /ENDURANCE SPORTSWIRE/ – Sports Strategies announces the return of The APEX Outdoor Festival & Expo in September, marking the final stage of highest profile mountain bike event on The Front Range – The Pikes Peak APEX presented by RockShox. In addition to the 4-Day MTB Challenge, The Pikes Peak APEX Run, will also serve as a backdrop for the full day of activities to celebrate outdoor recreation.
"We are planning a big party for September. Not only are we inviting the entire region, we want to offer everyone something they can enjoy," said Micah Rice, Executive Director of Pikes Peak APEX. "Not everybody is a mountain biker or runner, but it's hard to find someone who doesn't enjoy outdoor recreation. It drives the Pikes Peak Region, and it is something we all have in common."
Festivities will begin at 8AM, when everyone lines up at the Start Line, positioned at foot of the bridge to the U.S. Olympic & Paralympic Museum, to send the riders off for Stage 4 of The Pikes Peak APEX. Runners will follow, first Ultra participants, and then those running in the 10k and 5k. The day's events will offer plenty to entertain competitors and non-competitors alike.
Fun Rides & Activities – Join group activities like Pedal Our Past, a bike ride along the historic Legacy Loop in downtown Colorado Springs, highlighting interesting people, stories, places and scenic views.
Food Trucks – Experience some of Colorado Spring's favorites serving all day.
Fat Tire Beer Garden – Courtesy of New Belgium Brewing, proceeds benefit Pikes Peak Outdoor Recreation Alliance. Stop by and grab a brew beginning at 11AM.
Outdoor Expo – Come and visit outdoor organizations and shop your favorite recreation brands.
Live Music – Enjoy back to back concerts by Dirty Kings and WireWood Station beginning at 2PM.
A schedule of activities and details about the festival are posted on PikesPeakAPEX.com, where it will be updated as new information is available. Details about the Expo and opportunities to participate as a vendor or exhibitor are also available on PikesPeakAPEX.com.
ABOUT PIKES PEAK APEX
RockShox is the presenting sponsor of The Pikes Peak APEX. Founding Sponsors include Heuberger Subaru, The Warner Group, Norwood Development and LART. Other sponsors that make this event possible are ASSOS USA, GE Johnson, REI, CTS, Visit Colorado Springs and Colorado Springs Sports Corp.
The 2022 Pikes Peak APEX presented by RockShox will take place from September 22nd through 25th. The world-class mountain bike challenge draws pros and amateurs for four days of riding on the slopes of Pikes Peak in Olympic City, USA. The APEX features new trails each year, along with some local classics that have made Colorado Springs a Rocky Mountain trail destination. Beyond the 4-day MTB challenge, athletes are also invited on the trails to participate for single days on the bike and 46k, 10k and 5k trail runs. The final day draws out the entire community as the event wraps up with The APEX Outdoor Festival & Expo in America the Beautiful Park.
The APEX supports Trail Stewardship and drives economic impact to the area in order to improve the trails and open space in the Pikes Peak region for the lasting enjoyment of its residents and visitors. The APEX, a Pikes Peak Outdoor Recreation Alliance project, was developed and is operated by Sports Strategies, a division of Tourism Strategies, LLC. For more information about the event, visit PikesPeakAPEX.com.
For media inquiries contact Micah Rice, Executive Director of the Pikes Peak APEX and VP of Event Strategy & Operations of Sports Strategies. Email mrice@sportsstrategies.com or call 719.283.7577.